Grammy Award-winning singer Koffee donned Arsenal's new Jamaica-inspired, adidas-designed pre-match jersey, for her performance at the Notting Hill Carnival on Sunday.
The jersey, which is made of the Jamaican national colours – black, gold, and green feature a bold, all-over geometric print and according to Arsenal, was designed and revealed at the carnival in a bid to celebrate its Jamaican supporters.
On Tuesday, Koffee, Arsenal and adidas London shared images of herself at the event, clad in a pair of green adidas Firebird track pants with white Three Stripe branding and triple white Superstars.
"Notting Hill Carnival 🇯🇲 🔥with the @adidaslondon and @arsenal family," she noted on her Instagram page, while Arsenal noted: "Gratitude is a must. @originalkoffee delivering the ultimate warm-up this carnival, featuring our 22/23 pre-match shirt 🔥," on its Instagram page.
On Jamaica's Independence Day, August 6, adidas Football had announced that it would be outfitting all the Jamaican national football teams come 2023, and would be supplying not just the kits, but all other on and off-pitch gear for the squads.  Jamaica's football teams have been sponsored by Umbro since 2018.
The same day, the Jamaica Football Federation had announced that adidas' sponsorship would include all major tournaments in which Jamaica will participate.  The release also noted that the deal with adidas was cemented through the assistance of Sports 2 Business Sports Group, former Reggae Boy Fitzroy Simpson and lawyer Jonathan Himpe.
"All major tournaments in which the national teams compete are a part of the sponsorship and this will include the 2023 Women's World Cup in Australia and New Zealand, which the Reggae Girlz recently qualified for," the football governing body had stated, adding that country's 2024 Summer Olympics and the 2026 FIFA World Cup campaigns are also included.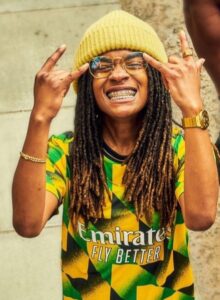 As for the Notting Hill Carnival, it has been described as a celebratory balm that began in 1966, as a means of soothing racial and cultural tensions in the area.  The carnival which is deeply rooted in Caribbean culture mushroomed overtime into an event which attracts hundreds of thousands of tourists as well as generates around £120 million for the London economy.
Koffee, who is a lover of football, is no stranger to being at the forefront of football branding and promotion.  In 2020, she was featured on the list of Jamaican artists on the FIFA 2021 Soundtrack, a popular Football video game from EA Sports, along with her compatriots Buju Banton, Govana and producer Rvssian.