Jahni Record/BlackXkimo Entertainment is the brainchild of Junior Nelson, also known as Major Banks. He built the company in the early nineties because there was no space available for reggae artists to develop and hone their talent in the city of Toronto.
"I was a recording artist, and I wanted to help myself and others in the music industry at the time,' he said. "I created a space for artists to work on their musical craft without cost. I just wanted them to be able to do what they love without worrying about money.
Not long after, the Blackxkimo recording studio and the Blackxkimos band were established. "It has been more than 20 years since we have been scouting, developing, producing, and managing talents in Canada," Nelson said.
Junior Nelson studied Audio Engineering and Entertainment Management at Trebas Institute in Toronto, Ontario. With his knowledge, he grew this company into a music label and recently added a cinematography department where they currently rent editing suits. The company also produces content for youtube, weddings, commercials, corporate events, and music festivals. 
Nelson still records and performs but believes it good to know all facets of music, especially the business side. "I am still a recording artist and still perform if requested, but I don't focus too much on me, I have always been that person who wants to give another artist like myself that opportunity," he said.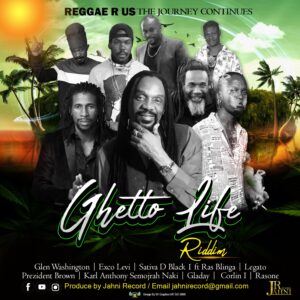 In 2021 Jahni Record released the 'Ghetto Life Riddim' featuring artists like Glen Washington, President Brown, Karl Anthony, Semojar Naki, and more. Since then, the Compilation album has made a statement in Jamaica and on the international scene, but Nelson still believes there is work to be done. 
'Ghetto life Riddim' is doing well, and we are looking for better results as we go forward. We have a good team, and we are doing a lot of groundwork, so we will make it happen, Nelson said.
Nelson sees a lot of artists in Canada with great potential and believes it only takes finding one good artist or a Band who is willing to work hard and create some good music. With a good management team and strong financial backing, in his opinion, that would make a big difference. "Reggae music has grown on a global scale. Worldwide, people are always looking for the next big thing, and artists in Canada have the potential to be the next big thing on a global level," Nelson said.  
Jahni Record is currently highlighting their new artist REDTAFYA with his self-titled EP 'REDTAFYA the Unpredictable', along with the 'Ghetto Life Riddim' they are both distributed by Zojack Worldwide and are available on all social media platforms.
Follow and support Jahni Record on social media
Website: www.jahnirecord.com
Instagram @jahnirecord
Facebook @jahnirecord
Email: jahnirecord@gmail.com
Youtube @ https://www.youtube.com/user/MajahBanks