Multi-Platinum selling Reggae/Dancehall, Hip-Hop/Pop Recording artist Rayvon will be performing live alongside Sugar Bear and DJ Disspare at the 2022 Winnipeg Soca Reggae Festival. The celebration in its 15th year will take place from July 8th to 10th at The Cube! Old Market Square – Winnipeg, Manitoba, Canada.
Rayvon has sold millions of records over the course of his extensive career via solo and collaboration releases. Most notably for the worldwide multi-platinum hit, 'Angel', 'Big Up', and the 2020 re-recording of 'It Wasn't Me' alongside Shaggy. Rayvon's solo career is no short of amazing either, in 1994, he saw mega-success with 'No Guns, No Murder' charted on Billboard's Hot 100, Rap Singles, and R&B/Hip-Hop Songs.
The Barbados-born Brooklyn raised Rayvon is known as the "Ambassador of Hip Hop Reggae" and named the "REGGAE USHER" by the late James Brown, Godfather father of Soul. He has teamed up and will be performing live with international dancehall reggae performer and Jamaican native Sugar Bear.
Fans can expect Rayvon to perform some of his classic songs and his latest releases featuring Sugar Bear; 'I See You', 'Now That We Found Love' and 'Roll It Like A Big Fat Spliff' to name a few.
The Winnipeg International Soca Reggae Music Festival is a celebration of Soca, Reggae, Calypso Reggaeton, African Beats, and revelry mixed with Caribbean flavors. "This year we are celebrating our 15th year. This is going to be another great year of Local & International Soca, and Reggae performers at this Caribbean Festival. Fun for the whole family", said the organizers.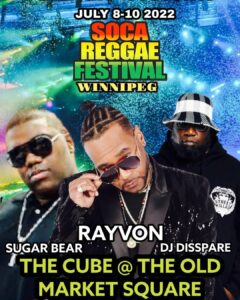 Fans are expected in droves to meet, greet, and enjoy the music of the legendary Rayvon. "People understand my message is positive, and at the end of the day, I'm just here to make music that I enjoy, and that other people enjoy. I think that's why I have such a loyal fan base', Rayvon said.
"It's extremely important to have a supportive fan base and be receptive to them", Rayvon continued. "I got a solid fan base, and they love me, and I love them. They know Ima give them what they want to hear; thank you to all my fans all around the globe".
For bookings, please contact
Theresa Kemp at Evalutionary Management & Music Promotions Inc ( E.M.M.P.Inc )
Phone: Office:1-718-828-2540 / Direct 1-347-353-4820
Email: emmpinc@gmail.com