Jamaica has lost another musical Icon from the reggae fraternity. Legendary Bassist and Producer, Robbie Shakespeare of the dynamic duo Sly and Robbie have died, he was 68 years old.
According to The Jamaica Gleaner newspaper, Shakespeare has been ailing for some time and had undergone surgery related to his kidneys. He was living overseas and was in hospital in Florida. Famously known as one half of Sly & Robbie, he has provided an immeasurable effect on Jamaican music for decades.
In July 2020, he was voted number 17 on 'The 50 Greatest Bassists of All Time list, compiled by Rolling Stone magazine. In a tweeted statement about the passing of the legendary Jamaican Bass player, the Jamaican Prime Minister Andrew Holness said, "When it comes to reggae bass playing, no one comes close to having the influence of Robbie Shakespeare," he said. "He will be remembered for his sterling contribution to the music industry and Jamaica's culture."
Sly and Robbie came together in the mid-1970s after Shakespeare already carved out his music career from a young age. The pair bonded over their varied taste in music but specifically their interest in reggae production. Their breakout work was on Mighty Diamonds' 1976 album 'Right Time'. In the following decade, their status grew as they worked with artists such as Joe Cocker and Grace Jones.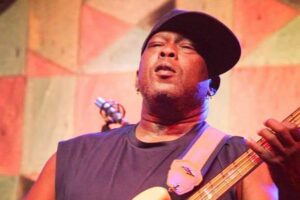 The duo started their own production company and record label, Taxi. During the mid-Seventies, the two, known as the Riddim Twins, appeared on classic albums by Tosh and recorded with nearly every major reggae act. Sly & Robbie reached a new level of success in the late Seventies when they joined one of reggae's biggest bands, Black Uhuru. Around this time, Sly and Robbie began incorporating more computer-generated rhythms and sounds into their tracks. In 1985, the first year the Grammys, the award went to Black Uhuru's Anthem, produced by Sly and Robbie. They were also responsible for key shifts in reggae music as it headed to digital, introducing the "Rockers" beat and later working with Chaka Demus & Pliers to create a fresh sound that distinguished songs such as 'Bam Bam' and 'Murder She Wrote'.
Shakespeare was born and raised in East Kingston, Jamaica. After learning to play the guitar, he became an early protégé of bass legend Aston "Family Man" Barrett. Shakespeare has been nominated for 13 Grammy Awards in his career and won twice, once in 1984 for best reggae recording for 'Anthem' and then in 1998 for best reggae album for 'Friends'. Jamaica has lost a genuine musical Icon, walk good Robbie Shakespeare.