Reggae singer Tony Anthony has always followed the beat of his music throughout his long career. From touring the UK, Europe, and parts of the USA to captivating audiences in Japan and South America, he has continuously shared his powerful voice and music with fans around the world. Now, Anthony has embarked on a new adventure, bringing his vibrant sound to Australia and Fiji on a four-week tour.
Although he has traveled extensively, this tour marks Anthony's first venture to Australia and Fiji. The release of his award-winning album 'Then Now & Forever' in 2019 has helped his music gain momentum in these regions, particularly among the Fijian and Aboriginal populations.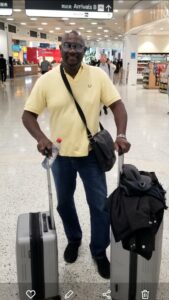 Arriving in Sydney on May 17th, Anthony is set to perform on a welcome cruise around the iconic Sydney Harbour on May 20th, kicking off his tour in style. With several booked shows in New South Wales before flying to Fiji for two concerts, he also plans to engage in volunteer work on the islands, showcasing his commitment to making a positive impact.
The singer, known for hits like 'Living in Glory' and 'Today I'm Gonna Try and Change the World,' feels incredibly grateful for the love and appreciation his music has received worldwide. He cherishes the connection with his fans and acknowledges the joy he feels in Australia, where his music is warmly embraced.
Anthony expressed, "It's a blessing when you see and feel the love and appreciation from people because of something you do out of love. Words can't comprehend the joy I feel being here in Australia sharing my music and my talent with people who truly appreciate my work."
Paulini Morris, the organizer of Anthony's tour, shares the excitement surrounding the singer's arrival in Australia. The love for his music is palpable, and Morris exclaims, "We love his music, and we are happy he is here to finally bless us with his voice and songs."
With three albums, two EPs, and several singles produced by prominent reggae producers under his belt, Tony Anthony continues to deliver fresh music to his fans. Look out for his upcoming releases, including tracks like 'It Must be Magic' on the 'Heart of Love' riddim produced by Jahni Records, 'That Day' on the highly anticipated 'Keele Street' riddim produced by Reggae North, and a remake of a Billy Joel classic produced by Wurl Trema Music, all set to be released in June.
Following his tour in Australia and Fiji, Anthony will head to Jamaica for a performance at the Caymanas Golf Club on June 18th. Fans in the Greater Toronto Area will also have the opportunity to see him at various events, including the Clarendon College Alumni Association Fundraising Gala on Saturday, July 8th, the Vere Technical High School Reunion Dinner and Dance on Saturday, September 9th, and the Alpha Alumni Association Presents an evening with Tony Anthony on October 28th.
Tony Anthony's journey continues to transcend borders as he spreads the infectious rhythm of reggae to new audiences. His passion for music and unwavering dedication to his craft shine through in every performance, making him a true ambassador of the genre.
Support and follow Tony Anthony on social media @
TikTok @tony_anthony2
Instagram @Tonyanthonymuze
Facebook @Tony.Anthony
Twitter @Tonyanthonymuze
Website—www.phylanimusic.com