Jahshii was arguably the star of night one at Rebel Salute, held at Grizzly's Plantation Cove in St Ann on Friday, January 20.
The singjay bore his soul in front of thousands of adoring fans who savoured his 20-minute set, during which the Rebel Salute débutante pleaded for an end to violence.
The pinnacle of his performance came when he leaped from the stage and walked through the crowd as he sang 'Born Fighter'. By this time, he had discarded his red hoodie, and was clad in a red, green, and gold-coloured mesh merino.
"Big up yuhself, mummy! Big up mi madda inna har bed—yuh done know how di ting guh. Big up mi fada to same way. Blessings every time. Heart ah love fi 2023 an' more life. Long life and prosperity," he said as he closed his performance.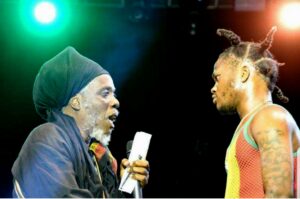 Emcee Mutabaruka was touched and invited the Grants Pen native back on stage to shower him with praises.
"Mi know yuh sing from yuh heart enuh, but I don't want yuh lef your heart right yah suh. I want yuh carry your heart guh back which part yuh come from, yuh understand? Because a serious thing yuh jus' do a while ago enuh, fi even come pon di show yah enuh, an' yuh notice yuh never even deh yah long; is about 15-20 minutes an' what you do right yah suh bigga than most of di shows weh thousands of people, millions a people deh," Mutabaruka said before embracing him.
Jahshii's other selections included 'Mama Affi Proud', 'Life Lessons', and '25/8'.
Another highlight from the well-attended show was Papa Michigan's performance of his hit song 'Rub A Dub Style' with his 24-year-old son Ramesh, who also attempted a tribute to the late Jo Mersa Marley, but seemed to forget some of the song's lyrics.
His father, however, encouraged him, saying: "Alright, di first-time mi guh on stage mi did very shy, yuh understand mi? Plus, he is going on this big Rebel Salute [stage], seeing all these sexy girls…," he said.
Tony Rebel, as well as California band Big Mountain, did commendably. Night one also saw performances acts including from Lady G, Rytikal, Duane Stephenson, Nation Boss, Glen Washington, and The Abyssinians.
Rebel Salute closed in the wee hours of Sunday with performances from Beenie Man, Luciano, Capleton, Sanchez, Josie Wales, and Stonebwoy among others.