The Canadian dancehall scene has been in the spotlight recently, and unfortunately, for all the wrong reasons. A violent incident at the 'Live in Toronto, Canada with Valiant' event on April 21, 2023, left female artist Diiverse injured, and the perpetrator is still unidentified. Videos of the incident went viral on social media, and the negative coverage has been damaging for the genre's reputation.
As is often the case in such situations, speculation has led to false accusations, and rising dancehall artist Ribba Don has been caught up in the aftermath of the incident. The artist, known as Tdot's fresh prince, has received death threats, and suffered damage to his reputation due to mistaken identity.
Ribba Don performed at the event before the incident occurred, but due to his outfit's similarity to that of the assailant, some social media users and attendees mistakenly accused him of being the culprit. In reality, Ribba Don had no involvement in the incident and was as shocked and appalled as anyone else.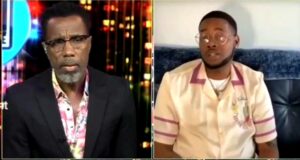 In a recent interview with popular Jamaican magazine program Onstage with Winford Williams, Ribba Don spoke out about the ordeal, revealing that he had received numerous death threats and suffered significant damage to his name and credibility as an artist. He has been forced to refrain from attending parties out of fear for his safety and is working hard to clear his name.
Ribba Don has been caught up in the aftermath of the incident, but he has no connection to the violent act that took place. The incident is undoubtedly damaging for the Canadian dancehall scene's reputation, but it is essential to remember that the genre has a rich history and a vibrant culture that should not be overshadowed by the actions of a few individuals.
Ribba Don is a talented artist with a promising career ahead of him. His music is a fusion of various genres, including Afrobeat, 90s Dancehall, RnB, and Reggae, and he is best known for songs like 'Calling Me,' 'Crazy Glue,' 'Affi Bingo,' and his latest single, 'Chop Lawd' which are available on leading online stores.