On Saturday, June 25th, the Jamaica National Bank and Jamaica National Money presented the International Media and Broadcasting Award of Excellence to Canada's online reggae magazine Reggae North. They received the award at the 2022 Durham Caribbean Festival held in Toronto for the first time in the heart of Little Jamaica, located at 1603 Eglinton Ave West.
Mary Galvan, President of the Durham Caribbean Festival with JN Bank and JN Money believe it is significant to recognize and acknowledge leaders like Reggae North, who work continuously to elevate the community and create platforms where people, especially youths, can showcase their skills and talent.
The Reggae North family is appreciative and encouraged by the recognition given by JN Bank and JN Money and vows to continue to help build and showcase reggae in Canada as much as they can.
"It is always an honor when your work is recognized by your peers", said Caswell Mclaughlin, Vice-President of Reggae North. "Reggae North saw the need to help the music fraternity in our community any way we could, and that's what we have been trying to do", he continued. "We really appreciate the acknowledgment, and we will take this recognition as encouragement to continue working hard and do whatever we can to enhance reggae in Canada".
"They support artists like me, and I want everyone to go and support what Reggae North is doing for all Canadian Reggae artists"' said Reggae Star Ammoye. "They give us a platform to get our music out to the world so we can be more widely seen and heard. So much love and respect to the Reggae North team for all they do".
Reggae North is a Canadian Reggae organization whose main objective is to tackle some of the impending issues commonly experienced in the Canadian reggae music industry. One of their initial projects, www.reggaenorthca.com is an online magazine that profiles and brings awareness to artists, musicians, producers, and people in the Reggae community and their contributions and upcoming projects.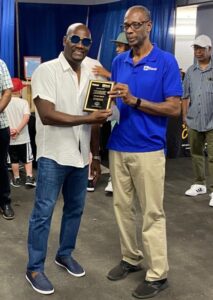 Reggae North posted its first article at the beginning of the COVID pandemic in 2020. Now the company has grown in popularity, subscriptions, and international recognition. In an effort to encourage Jamaicans to return home during the 60th-anniversary celebrations;  Mark "Tony Anthony" Bennett, writer and President of Reggae North was among the group of journalists from the Jamaican Canadian media invited by the Jamaica Tourist Board on a recent press trip to explore the Island, to experience what is new, inspiring, and nostalgic.
Reggae North's consistency and ability to present new articles each week is possible because of the dedication of their formidable team.  Osborne 'Ifield' Joseph, Operation and Production Manager, Eminent Media, website and Media support, and Copy Editor Heather Aspinall are reliable team members who are always ready and on point.
Other award recipients at the 2022 Durham Caribbean Festival on Saturday, June 25th, include Freedom Mas, who received the Arts and Culture Influencer Award, Elaine Robinson from Ghetto Stories received the Women in Media influencer Award, Empro Graffix who received the Marketing and Branding Award, and Afro Caribbean Farmers Market who received the Cultural Events Award.
Follow and Support Reggae North on social media.
Website: @www.reggaenorthca.com
Facebook: @Reggae North
Instagram: @reggae.north
Twitter: @NorthReggae