Reggae music has always been known for its powerful messages of social justice, equality, and cultural pride. And one artist who embodies these values is Otis I, a Canadian reggae artist who has been making a name for himself in the music industry for over a decade.
Born in Montego Bay, Jamaica, Otis I burst onto the reggae scene in the early 2000s with his self-produced songs 'Suppose to Do' and 'The Rain.' His unique blend of roots reggae and dancehall quickly caught the attention of music lovers across the city and beyond.
But instead of basking in the sudden fame and success, Otis I took a break from his music career to deepen his knowledge of righteousness. He spent his time meditating and focusing his mind, body, and soul on a higher level of consciousness.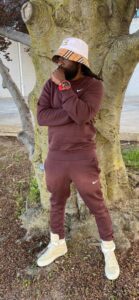 This hiatus not only helped him to become a better person but also a better artist. When he returned to the music scene, he was more determined than ever to write songs that would uplift, empower, and liberate humanity.  Otis I's music is a reflection of his personal growth and spirituality. His lyrics are filled with messages of love, hope, and positivity, and his music is infused with the sounds of his Jamaican roots.
In his latest singles 'She's Mine' and 'Brown Eyes,' Otis I takes a departure from his cultural reggae roots and explores his romantic side. The songs are a celebration of love and the wonderful qualities of his queen.  But even as he explores different themes in his music, Otis I remains committed to spreading knowledge and consciousness through his art. "I cannot be a one-dimensional artist," he says. "I have gained so much knowledge and experience, there's a lot to write and sing about."
Otis I's debut album, 'Vitality,' released in 2018, is a testament to his growth as an artist and a human being. The album features a mix of cultural reggae, lovers rock, and dancehall, all infused with his unique style and message.
As 'The Rain' singer puts it: "Music is a universal language that can connect people from all walks of life. My hope is that my music can inspire and empower people to be the best version of themselves," he said.