Kandice K*A*S*H is an actress, singer, songwriter, and student of life. She is described by many as phenomenal, a truly exceptional woman from a long line of remarkable Afrikan queens. Kandice started in the music business while living in New York City, where she auditioned for an off-Broadway play written and directed by the late great Titus Walker and was cast as the co-star.
Kandice was born on the beautiful island of Trinidad and grew up in Laventille Block 22, before migrating to New York City. There her love for music and dance began as she was a member of the Jackie Robinson Tap Dancers. Kandice is a natural performer and began to do cheerleading, stepping and entering many talents shows to showcase her abilities. She eventually moved to Toronto Canada and got into the reggae and dancehall scene when King Turbo Sound began a platform called Fight Club to encourage artists to showcase their talents. KASH eagerly participated.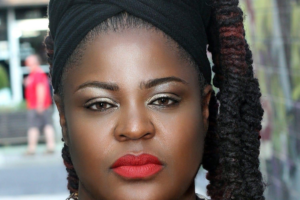 While participating in the Fight Club, this inspired KASH to start her talent showcase to encourage other emerging artists to showcase themselves. There she met two artists, Yung Storm and Smokie, and started a group with them called SKS to sing and rap doing hip-hop and R&B music.
Kandice describes her music as reality music, "I see myself as a Souljah on the battlefield called Life. I keep fighting for what is right and I write music that deals with my experiences", she said. "I generally speak or sing about things I have experienced in my life. I love reggae and any variation of music that both captures and excites my audience".
Kandice KASH hosted a show on O-TUNE and is involved in many other youth initiatives. "Yes, I'm currently building a Souljah empire", she stated. "Shout out to O-TUNE Radio (www.otuneradio.ca) for the opportunity to be on-air hosting every Friday on Casual Fridays from 8 PM to Midnight playing the best Reggae, Soca, Afro-beat, Hip-Hop, and R&B".
She is also working with Moksha Canada Foundation, a non-profit organization, as a host on a new platform called Hope Canada, Inclusive and Resilient Live Music & Arts series. "I interview artists within the Toronto area and provide a place and space for them to showcase their many talents", she said. "I believe there are many talented reggae artists right here in Canada. I think that Canadians need to embrace the strong reggae culture already existing in Canada and focus on building up artists currently using this genre of music to express themselves", Kandice continued.  "Reggae is from the soul and many more continents are opening to this music and loving it. I believe support is needed by Canadian radio stations to play more Canadian reggae artists and unity within the Canadian reggae fraternity to spotlight and promote those artists who have taken the time to invest in themselves".
The past two years have been turmoil for many, and Kandice was no exception.  Her debut EP album was paused because of the pandemic, but now she has returned to the studio, so fans can look out for the finished product soon. "I have recently acquired a new songwriter for my team to assist in hopefully showcasing a different perspective and to open myself up to different genres", she said. "I've been collaborating with other artists and I'm just excited to finally get back to creating new music". Kandice K*A*S*H is known for songs such as 'Disappointment', 'Must be a Place', 'Empty Soul' and 'A Girl Like Me'.
Support Kandice K*A*S*H on social media
Facebook @KandiceKASH
Twitter @mskandicekash
Instagram @mskandicekash