Los Angles, California – The 65th Grammy Awards saw the crowning of a new champion in the reggae genre, as Kabaka Pyramid took home the award for Best Reggae Album for his project 'The Kalling'.
The album was nominated alongside some of the biggest names in reggae including Koffee, Sean Paul, Protoje, and Shaggy. However, it was Kabaka Pyramid who emerged victorious.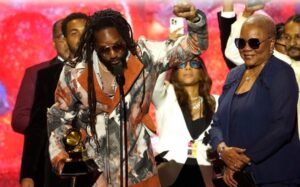 In his acceptance speech, the artiste thanked his family, management team, and all those who worked on the album with him. He also dedicated the album to the late Jo Mersa Marley, who passed away in December.
This was the first time Kabaka Pyramid had been nominated for a Grammy, making the win all the more significant. Fans of the artiste took to social media to express their joy and congratulate the rising star.
The win is a major milestone in Kabaka Pyramid's career and is sure to bring even more attention to his music and message. With his unique sound and powerful lyrics, he is already being hailed as one of the leading voices in the reggae genre.
The Grammy Awards is held annually by the National Academy of Recording Arts and Sciences, and recognizes outstanding achievements in the music industry.