Jônelle is one of those artists you cannot ignore even if you want to. The multi-faceted artist who sings, writes songs, produces, and plays the trumpet, exudes the refreshing vibes and energy that it takes to reap success and be unforgettable.  The talented singer is expressive, and her versatility will make you want to listen to her music repeatedly.
Jônelle's first single, 'Sunshine', was written when she was 16 years and recorded in 2019. In her 2021 fused single, 'Everybody Needs Love', she sings about people needing love in the world. Her lyrics are relatable in understanding self and what is lacking in humanity.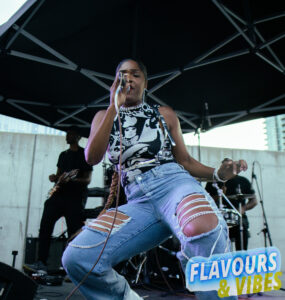 Jônelle is a singer, songwriter, and producer from Flower City, Ontario, who now resides in Vancouver.  She started singing at about six years old, and a few years later, she started playing the trumpet. Jônelle recorded her first song in 2019 and knew then that it was her calling to share her voice through music. This versatile artist has an original style, sourcing her inspiration from reggae, afrobeat, hip-hop, R & B, and other genres.
Jônelle's talent has not gone unnoticed; Jesse Jones, the president of The Jones and Jones Group, discovered her music and was impressed with her talent. "I was on Instagram, and I saw her freestyling at an event. I was very impressed with the way she commanded the microphone. She had a fresh style", he said. "I love what she was doing, I love what she was about, and I decided to help her with show performances and opportunities to collaborate with other artists".
Although Jônelle is not signed or working exclusively with his company, Jesse Jones has booked her on a few shows in Toronto and Ottawa and arranged radio interviews to help introduce Jônelle and her music to a new audience. Event and TV host Jones believes in the young starlet's abilities and is ready to work with the artist to help unearth her potential. "Jônelle has a refreshing energy, and she has got something. If there are ways we can help her, I want to do that".
Learn more about Jônelle on social media
Website @ https://jojo100mdash.wixsite.com/my-site
Instagram @ _iamjonelle
Twitter @ _iamjonelle
Linktr.ee @ _iamjonelle