Canadian reggae artist Inoah is quickly becoming a household name in the reggae music scene with his conscious lyrics and uplifting vibes. His latest single, 'Love all Around,' produced by Rite Link Productions and Xtalent, is a testament to his unique sound and style, and has quickly become one of the most streamed songs of its release period.
The single is currently available on leading online stores and has been added to Spotify editorial playlists, further cementing Inoah's status as a rising star in the reggae music industry.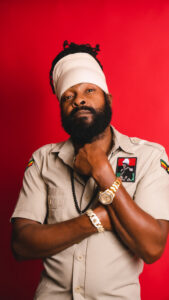 Inoah's rise to fame has been steady and consistent, with each release showcasing his growth and artistry. His previous release, 'Rastafari Rule,' was a fan-favorite and featured on his most recent album, 'Royalty.' Produced by Vertex, the 10-track project features contributions from notable producers such as Hardrock Music, Bizzari, Charm B Productions, and Nature's Way Entertainment. The album has been a fan-favorite, further establishing Inoah as a force to be reckoned with in the reggae music scene.
The 'Somebody Worse' artist's popularity is growing rapidly, not just in Canada but globally. Fans can catch him on stage throughout the remainder of 2023 as he takes on the Rasta Got Soul Canadian tour produced by Vertex Productions, alongside Fanton Mojah and Etana. The tour will kick off on June 3rd in Toronto and continue June 4th in Niagara Falls and June 9th in Edmonton, Alberta. Inoah promises to provide his signature uplifting music to fans across the four corners of the globe.
Inoah's commitment to spreading conscious messages through his music is evident in his latest mixtape, 'Reggae Soldier,' which is available on YouTube. The mixtape is a collection of tracks that showcase his lyrical prowess and unique sound, further cementing his status as a conscious reggae soldier.
For Booking contact
vertexlabel@gmail.com
or (647) 570-3026
Instagram @inoahreggae
Instagram @therealinoah