Renowned reggae artist Horace Martin is gearing up for an exciting summer. With performances scheduled in Brazil and Italy, this veteran musician is ready to mesmerize audiences with his captivating music.  
Having achieved international recognition with chart-topping hits like 'Beautiful Dream' and 'Wake Jah Jah Children', Horace Martin's upcoming tour promises to be a delightful experience for reggae enthusiasts in Brazil and Italy.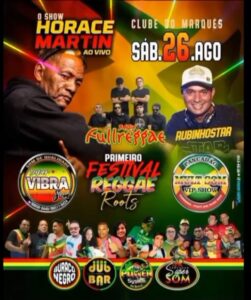 From August 19 to September 8, Horace Martin will embark on a tour across four Brazilian cities. San Luis, Sao Paulo, Rio de Janeiro, and Teresina are the lucky destinations where fans will have the opportunity to witness the veteran artist in action.  
The artist's presence in Brazil reflects his growing following in South and Latin America, where his music has resonated with audiences over the years.  Following his Brazilian tour, Horace Martin will carry his reggae vibes to Milan, Italy, where he will perform between October 20 and 31.  
Horace Martin's journey in music spans several decades, marked by numerous successful releases and achievements. Songs such as 'Beautiful Dream' and ''Wake Jah Jah Children' have achieved global recognition, reaching the top of music charts worldwide and remaining popular to this day.  
Over the course of his career, he has released six albums, include 'Mix Up' on Redman International, 'Watermelon Man', 'Black Bear', and 'Musical Ambassador' for Trevor Elliot, among others. 
Although Horace Martin currently resides in Canada, his music transcends borders and cultures, finding a warm reception wherever he goes. Alongside his performances in Mexico, his forays into Brazil and Italy highlight his commitment to sharing his reggae legacy on a global scale.