Elephant Man believes fathers should serve as positive role models in the lives of their children. This, he stressed, would help them to make good choices that will foster a healthy society.
The dancehall entertainer was speaking with the Jamaica Observer at the return of popular retro party series, Strictly 2K, held at Mas Camp in St Andrew on Saturday night. Elephant Man was the event's headliner.
He said that fathers are the first role models for their children and fathers' responsibilities include motivating and shaping the minds of their children in such a way that they are not easily swayed by negative influences.
"I believe fathers have the influence to make their children grow up and become good citizens. This is because, in parenthood, kids look up to their fathers more than to their mothers. We have a parenting style that is significantly different from that of a mother's and this difference is important in a fostering a healthy child development. Remember, ah wi ah di man! We are the ones that come with the aggressive force and instruct children what to do," he told the Observer.
Elephant Man, who said he is the father of 20 children, said his kids look up to him as a role model.  "They look up to me as a good example in their lives. Some of them want to become a recording artiste like myself, while others want to become dancers. The feel-good knowing that the 'Energy Gad' is their father. For this reason, I try to maintain a positive energy by being mindful of the activities I take part in and try not to sing songs that will influence them or any other children in a negative way," he said.
The entertainer dubs himself Energy Gad due to his high-energy performances.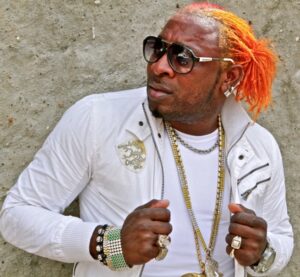 Elephant Man, whose given name is Oniel Bryan, said he is aware of the toll being an entertainer can have on family and fatherhood. "Live performances, studio work, and appearances can all cut into moments with your family. In fact, I don't get to see my children all the time. Most of them live in the US and like it's summer time I would get a chance to see them. Everybody wants to see daddy, so what I plan to do is take them to the beach or a river, or keep a party at my home and just hold a vibe," he said.
Sunday, June 19 is Father's Day. He described the perfect Father's Day gift for him.  "For me, a perfect Father's Day gift for Elephant Man would be having all the kids around you, food ah cook, everybody at the river or the beach, or the pool ah yuh yard. Everybody ah fulljoy demself and having a great time. Music playing, peace and harmony, nutten but love and everybody having a great time… Giving God thanks for family… and enjoying the moment," he said.
The high-energy performer made his return to the dancehall scene with a stellar performance at Strictly 2K. It was a night of non-stop dancing. He said it was his first event after Jamaica's entertainment sector was reopened in mid-March.
"Once you say 2000, you know it's my world, so I had to be apart of the event. The people really enjoyed my performance. I had them 'sweeping' and doing the 'Gully Creeper'. You know I had to climb and jump into the crowd as well, or it wouldn't be a Ele performance," he added.