Nine years ago, fans in the Greater Toronto Area got to see Everton "E-Dee" Dennis play out his life in the movie, Out the Gate. In it, he co-starred with fellow Jamaicans Oliver Samuels and Paul Campbell.
Dennis has slowly built a solid resume in Hollywood. His latest project is the movie, Gangland Musical, in which he plays Ragga, a Jamaican gangster. Inspired by the timeless melodrama, Romeo and Juliet, it officially opened September 3 on Starz, Amazon Prime and Hulu. Directed by Jean-Claude La Marre, its prime stars are Wood Harris, Tamar Braxton and Keith Robinson.
Gangland Musical is Dennis' second film with La Marre, who is of Haitian heritage. He had a small role in 2017's Chocolate City 3 but so impressed the director, he got a more expansive role as Ragga whom he describes as "a confident gangster that no one wants to cross."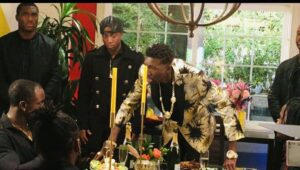 The lanky Dennis is from Clarendon, a sugar belt parish in rural Jamaica. He has lived in Los Angeles for almost 20 years, doubling as a recording artist and actor. His songs include Needed Me (with Wayne Wonder) and Fancy Face. The latter is his latest release.
Out The Gate premiered in 2011 in New York. It also made stops in Atlanta, London and Toronto, showing to receptive audiences.
 Though many Jamaican actors and Jamaicans consider underworld roles demeaning, Dennis sees nothing wrong with being a tough guy. "I love the gangster role that I am getting now. It was always my dream," he said.