The buzz has gotten loud since Empress Divine and Blk Orchid dropped their new Single 'Single Girl Blues. The song has already peaked at number 18 on the Canada ITunes reggae chart; and added to playlists on reggae radio in the United Kingdom, the USA, Jamaica, Australia, and Canada. The positive response indicate a hit in the making.
Written and produced by both artists, 'Single Girls Blues' was released on August 19, 2022, on all leading online stores. Blk Orchid and Empress Divine are happy about the favorable response they have been receiving about the song; they believe all that has been happening indicates that it is resonating with people.
"It's an incredible feeling seeing everybody just gravitate so positively to our song", said Blk Orchid.  "All the hard work and effort for the last few years that we put into making sure that everything looked and sounded good for this project paid off, because everyone loves it and that's all we could ask for".
"The magnitude of overwhelming support and love that we are getting from this song is truly amazing", said Empress Divine.  "We have been working on this song together throughout the pandemic and it was worth the wait. We are extremely thankful for all the support we are getting worldwide".
'Single Girl Blues' is also trending on Audiomack Caribbean and has been added to several reputable playlists like Island Music Club, Reggae Samplers, and VP Records New Reggae 2022 Playlist. Blk Orchid and Empress Divine are working on a video for 'Single Girl Blues' fans can look out for it dropping soon.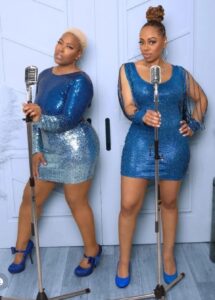 Support and follow BLK Orchid and Empress Divine on social media
Instagram: @iamblkorchid
Twitter: @iamblkorchid
Facebook: @empressdivinemusic
Twitter: @empressdivine24
Instagram: @empress_eva_so_divine