Antiguan-born, Toronto, Canada-based dubzz/poet/at-large Clifton Joseph has quietly emerged as one of the loudest voices in international dub poetry! He is one of the founding members of dub poetry in Canada, alongside Ras IShaka, Lillian Allen, Devon Haughton, Ahdri Zhina Mandiela, Afua Pam Cooper, and others. Clifton Joseph has been on a tear for the last year with a blistering flurry of activities.
Coming out of the recent pandemic, Joseph released his new CD 'Shots on Eglinton, a combination of old, contemporary, and found sounds of his best works. The poet performed at multiple venues around Toronto, Montreal, and Peterborough. Clifton Joseph then had a very successful launch of his new CD in Toronto.
Clifton then took the skies and went on a six-week tour of Europe and North Africa with stops in Tanta and Cairo in Egypt, Paris, France, Wales, Southampton, and London in the U.K (where he also met up with dub poetry icon Linton Kwesi Johnson!). The dubzz/ poet/at large also had a stop in Berlin, Germany, where he delivered a stunning performance and a stinging 2-hour workshop on the role of poets and artists in this new dispensation. He also performed in an opening exhibition honoring the 50th/fiftieth anniversary of the publication of Walter Rodney's ground-breaking book How Europe Underdeveloped Africa.
Not one to rest on laurels, Clifton Joseph has a newly released single, 45/rpm-vinyl 'Subterranean Dub' produced by Local 254, who is also releasing a "Box-Set" Catalogue of his recorded and published works.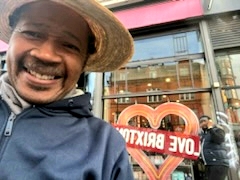 Gaining and implementing new marketing strategies for his work, Joseph has started a program where people can invite poets to their locations for personal performances, workshops, and classes. Fans can look for upcoming performances from Josephs in Toronto, Montreal, Halifax, and Vancouver.
You can find out more and contact Clifton Joseph on his website: www.cliftonjoseph.com.