DJ Vibesman has been on the air at CKUW 95.9FM in Winnipeg since 1999. He is the host of Central Canada's number one Caribbean format radio show, with a focus on playing the newer Caribbean content that is coming from the West Indies for his listeners.
On Sundays, his supporters tune into The Island Vibes show from 10 PM to midnight, as he pumps Caribbean music over the airwaves and online with all his podcast links. He produces his style of a radio program that replicates a show in the Islands from his base in Winnipeg. "My show is mostly all music with less talk, to compete with all the other online podcasts and live streams out now," he said. "There is a massive amount of content from all over the world, that people can access now with their just their cellphones".
 Mr S. Deen aka DJ Vibesman was born in Trinidad and migrated to Canada when his parents moved to Winnipeg in the mid-1970s. He got started in radio in 1999 with CKUW 95.9 FM out of the University of Winnipeg (WWW.CKUW.CA), a campus community access volunteer radio station and program. The radio station is unique to Winnipeg for having all styles of music and radio content on one station. Other stations in Winnipeg feature single style
 content, All Rock, All Country, All Dance/Club or All Talk 24/7.
 According to DJ Vibesman, with the very small Caribbean community in Winnipeg compared to Toronto, getting Caribbean music over the airwaves and online here is still greatly needed. "All our amazing Caribbean Music of the past and new material coming out weekly are still not getting airplay on the bigger mainstream radio & television networks here in Canada," he said.
"We would hear one or two songs a week, A Bob Marley, a Shaggy or Sean Paul tune on the bigger Stations," Vibesman continued. "Our Caribbean community in Winnipeg has been reducing from the migration of our youths to larger cities in Canada. We are around 10,000 people now, out of a Manitoba population of 1.3 million, so the larger Radio & TV stations are producing content for those larger demographics of Manitoba".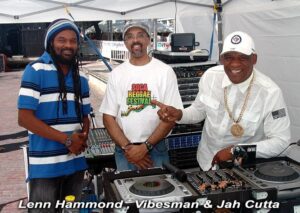 When asked about the reggae music scene in Winnipeg, DJ Vibesman describes the scene as being very small with a hand full of DJs, Artists and Bands; approximately 10 Caribbean DJs, 6 Reggae & Dancehall Singers and 4 bands. "Before all the Covid issues over the past 19 months, there would be one or two events with local performers per month", he said "mostly on holiday long weekends, and one big out of town act event per year. Here in Winnipeg, we have to produce Caribbean events that will pull the non-Caribbean crowds for it to be financially viable".
When DJ Vibesman is not sitting around a microphone entertaining people on his radio show, you will find him performing as a drummer in a few Caribbean bands or working as a Live Sound Engineer. Performers and artists can send their MP3s for airplay on The Island Vibes show by emailing their music to islandvibesshow@yahoo.com.
Support and follow DJ Vibesman on social media @
Website: @http://www.islandvibes.org/
Facebook @Island Vibes Show with Dj Vibesman
Radio Show @Island Vibes Show with Dj Vibesman CKUW 95.9 FM