Toronto's Lauren 'DJ Chocolate' Speers is always busy, most often doing something music related.  Whether it is playing records at one of her many weekly gigs each, dealing with her practice as a Family and Entertainment lawyer, or at the controls and decks of her radio show, Rebel Music, this dynamo never seems to sleep!
DJ Chocolate has been playing on stage for more than eighteen years with many greats from the reggae and jungle world, some of her faves being Burning Spear, Luciano, Damian Marley, and Sly & Robbie inna Reggae stylee, and also Congo Natty, Roni Size and Marcus Visionary on the jungle tip.
Scratch Free, her vinyl-mastering studio, is the only one in the world owned by a woman.  She further developed her communication skills and contacts as one of the owners of Acme Vinyl, which manufactured records for all the major and hundreds of independent Canadian and American record labels of all genres.
DJ Chocolate has been involved in the management of several reggae artists, along with assisting in the publishing and management of a Grammy-winning urban music producer. She has delved into freelance consulting as a strategist for several record labels, emerging artists, and production/events companies.  As if that wasn't enough, she is also busy honing her pen, ears, and negotiating abilities as a skilled litigator with a thriving legal practice.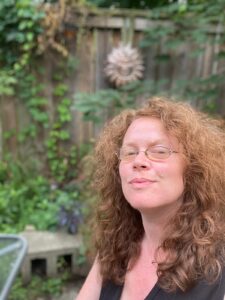 Reggae North had the pleasure of having a conversation with this successful and interesting woman who has a huge appetite for reggae music.
When did you discover reggae music?
According to my mother, when I was teething, I liked the Musical Youth album, the cover of that LP, which I still have, has my teeth marks on it. Maybe it was because they were kids singing the songs, but it also sounded great to me then.
How did you get started being a reggae music DJ?
I started off playing Reggae, Dub, trip, hop, and lots of Ragga jungle when I was in high school and alternating between going to concerts and raves. Over time it turned into very mainly Reggae. I really do like the sound of live instruments best.
How long have you been working in this capacity and what motivates you to continue?
The music motivates me. Not so much the new music, but good music itself, often the people who gather to listen to it, and being a part of the vibes. I'm sure you know how it is, you hear and see joy, and it's hard not to want to perpetuate it. Also, since I was a teenager, I could hear that Roots music is message music.  I've always been kind of a crusader for equality, social justice, right vs wrong and fairness, and I feel like some root's reggae is one of the kinds of music that best addresses all those things in a palatable way.
What are some of the changes you have seen in reggae in Canada?
That's a very loaded question. The pandemic and technology have really affected reggae music here, but I can only speak about what I've seen in Toronto.
The pandemic resulted in a lot of venues closing, so now it is much harder to find a physical space for Reggae in Toronto. The venues that are left from before are concerned about issues like violence but also their bottom line, which is usually bar sales. DJs who play more jiggy music may succeed in bringing in a bigger crowd, especially in the suburbs, but there has been too much violence for venue owners not to be worried, unless somebody has an established track record otherwise.
Even the foundation selectors like me, have an issue, because the crowd is less of a drinking crowd, and bar owners really do want to make money too. Conversely, when you have a six-piece band that needs to get paid, as well as an artist, shows get expensive for Promoters, even if they can find a space.  The fact that you cannot smoke in almost any venue is also a deterrent for people to go out unfortunately, especially in the winter.
Technology has replaced bands for many emerging artists and producers. I understand the financial constraints but that has resulted in a lot of emerging artists' music not sounding as good. That has a flipside, though, the reliance on the Internet that grew during the pandemic has made it easier for music and music business to be conducted online.
Reggae music was once seen as the music that generate hope and has inspired many.  Has reggae lost its role?
I don't think Reggae itself has lost its role, but its main audience is getting older, and most of the newer music is perhaps less positive. I think young people are not making as much roots reggae because they see dancehall, hip-hop, Afrobeat and Soca generating more hype and sales.  Places where there is an existing Reggae market, like Jamaica, or England, the US or Canada are seeing that it is likely that certain kinds of music make money. I grew up on studio, one and soul and Brazilian music and early electronic music as well, but my kid thinks that's all for old people. To make him like my foundation and rockers music, I had to start putting his name in dubplates!
There is still room for that positivity, and I think that most people are open to it. However, the kids who are the songwriters of tomorrow have been given (Choppa lifestyle) examples that are less positive by the media. And I don't think mainstream media is particularly friendly to Reggae anymore. I still hope that there will be a few younger artists over the next few years like Chronixx in Jamaica and Kairo McLean here that are more rootical to inspire kids to make less commercially driven or "guns-gangs-girls" centric music.
How do you balance being a litigator, mother, and DJ?
Coffee! Lol. Also, I have a sense of the importance of my work to the people who hire me in both fields, which makes work late. I've always thought that if you really want to do something, you do it and don't let things stand in your way. Yes, I know that's much easier said than done, but determination and stubbornness go a long way. Mothering is not a choice, it's a life I signed up for, and that comes first.
People can catch DJ Chocolate playing records at one of her weekly gigs, as well as hosting and programming Rebel Music, one of the most-listened-to shows on Toronto's beloved CKLN88.1FM and now Thursday nights from 8-10 on Radio Regent and Reggaemania Radio (www.rmr.fm).