In the world of music, artists often draw inspiration from personal experiences, channeling their emotions into powerful songs that resonate with their audience. Diiverse, the rising female dancehall artiste, recently showcased this ability when she transformed a traumatic incident into a triumphant anthem titled 'Man's World'.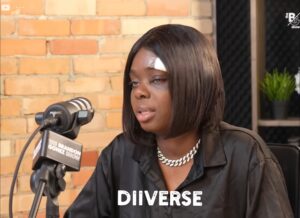 On Friday, April 21, Diiverse's stage performance in Toronto took a horrific turn when an unidentified man, reportedly an upcoming artist, walked onstage and violently flung a microphone at her face. The incident, captured on HD video, quickly went viral, sparking widespread discussion on social media. Despite the physical and emotional pain, she endured, Diiverse resolved not to let this incident dampen her passion for performing.
Diiverse turned her pain into art by creating the powerful song 'Man's World', produced by Brampton-based Smokeshop Studios. Released a few weeks after the incident, the track serves as a commentary on the continued violence against women and the disadvantages faced by women in the music industry. With lyrics like "Pure strength alone dem have, some boy nuh really bad, use mic lick mi in mi face end up inna hospital," Diiverse vividly expresses her thoughts and highlights the inequality faced by women.
'Man's World' reflects Diiverse's determination to rise above adversity. The lyrics convey her frustration at the double standards that exist, where artists disrespect women while disregarding the repercussions. By channeling her experience into a song, Diiverse aims to raise awareness about the issue and inspire others to stand up against violence and discrimination.
Diiverse, a Brampton-based artist of St. Vincentian and Jamaican heritage, has gained recognition for her previous tracks like 'Views Over Likes', 'Oh Yeah', 'I Don't Care', and 'Dancehall Queen'. Despite the setback, she remains steadfast in her commitment to her music career. Diiverse is presently working on new music and eagerly preparing to return to the stage, driven by her desire to connect with her fans and take her career to new heights.