Denroy Morgan, the patriarch of the Grammy Award-winning group Morgan Heritage, recently released a new single from his continuing music project working with young artists in Africa. The song titled Wildflower, is a remake of a popular Dolly Parton's classic and features Monique Stylez from Zambia. The track and video were launched recently via the popular European website Reggaeville.com.
 Wildflower is the second single from Monique Stylez' upcoming EP titled Sweet Girl from Africa, which is slated to hit the market this coming August. Zambezi River that also features Morgan was the first single released from the five-song EP, which features four original songs and the Wildflower remake. Morgan is featured vocally on two songs and co-writes on all the original tracks.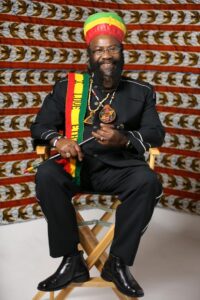 This project is a continuation of The Youths of Africa project which Morgan started three years ago. In 2019, he released a five-track EP titled Missing You, which featured songs from five African artists; Nyasha David (Zimbabwe), Latitude (South Africa), Vagavybz (Rwanda), Q-Nel (Ghana), and Bravoo (Kenya). Morgan came out of retirement from the recording industry to push the careers of these young African reggae singers, who he regarded as members of his extended spiritual family. "These young men are my sons of the outer circle, the children of the outer circle, my spirit family", he said. "They are incredibly talented, and I have the blueprint to introduce them to the world".
Denroy Morgan became popular after scoring a huge pop hit, I'll Do Anything for You, in 1981. He dedicated his life to pushing the efforts of his children, Morgan Heritage and LMS, to international fame. Morgan is the father of 30 children, and he has been able to use the sheer force of his presence and his charisma to introduce new artists to the world. He did it first with Morgan Heritage, a reggae band formed in 1994 by five of his children namely Peter "Peetah" Morgan, Una Morgan, Roy "Gramps" Morgan, Nakhamyah "Lukes" Morgan, and Memmalatel "Mr Mojo" Morgan. The group has toured internationally and released several reggae albums including the 2015 Grammy Award-winning Strictly Roots. He also enjoyed success with the group, LMS which included Laza "One by One" Morgan who has had some hit records as well.
Denroy Morgan is confident that he can do what he did for his children for the young artists in Africa. "I am doing my part to unearth talent in Africa, and to bring their music to Jamaica and the world", he said.