In an Instagram post recently, international rap superstar Nicki Minaj officially released a second remix of Skeng's Likkle Miss, which now include an additional eight artistes from the islands. Minaj paying homage to her Caribbean people.
"Tonight's show is dedicated to my island girls, island boys and gvn man [sic] only. Don't give af about your opinion if you weren't born on a beautiful warm island with clear beaches. Gweh!" the post read.
By the track's release, social media was ablaze with reactions after noting that Spice, Pamputtae, Dovey Magnum, London Hill, Patrice Roberts, Destra Garcia, Lisa Mercedez and Lady Leshurr were all featured on the song that is dubbed the Fine Nine remix. The tune is a little over six minutes in length.  Nicki then went live with a few of the artistes on the track as well as prominent selector LavaSound.
While speaking to Pamputtae, Nicki praised her for her lyrical ability and asked about the start to her verse, to which the deejay said she had to represent for dancehall.
"Pamputtae a bad artiste. Mi rough certain way enuh, dem can tell yuh. From you see me, you see dancehall. From yuh hear mi, you hear dancehall. Dancehall is not a funny ting; dancehall a real ting. Yuh affi stand up, especially as [a] woman and a nowadays me see ooman kinda a get the justice certain way. If yuh ave a producer him will ave all 20-man pon one riddim and no female. Nowadays, it kinda different. Mi love how the female dem a step [up] and wid you a history yuh create," Pamputtae said.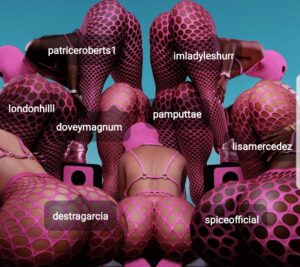 Lisa Mercedez also tuned in to the Live to share that she began working on her verse immediately and submitted two verses.  "Big respect; thank you so much for this opportunity. Nicki, mi nah lie, the song bad. As the queen reach out to me mi never stall and Nicki yuh know mi love yuh from long time. Once mi get an opportunity like this mi affi go straight inna the studio," she said.
Over a week ago, Nick Minaj released the music video for the first remix with Skeng.
This article was first posted in the Jamaica Star on October 6th, 2022.