In the vibrant landscape of Canadian music, one artist stands out as a beacon of positivity and innovation: Ammoye. Hailing from Jamaica, Ammoye has been making waves in the music industry with her distinctive reggae sound that effortlessly fuses various genres like old-school rocksteady, dancehall, dubstep, gospel, soul, and R&B. Her enchanting voice, coupled with messages of empowerment and justice, has earned her recognition and respect, as evidenced by her six Juno nominations. 
Ammoye's musical journey is marked by her determination to break barriers and cross boundaries. Her soothing and multidimensional voice resonates with audiences far beyond the reggae sphere. She fearlessly takes the stage at shows and music festivals that typically don't feature reggae artists, proving her ability to captivate diverse crowds. 
In 2022, Ammoye's star continued to rise as she participated in the Going Global x Mondo showcase, a platform presented by Global Toronto and Small World Music. This year, her journey of breaking new ground continues with appearances at Contact East 2023 in Woody Point, Newfoundland & Labrador, the Mosaïq Multicultural Festival 2023 in Moncton, and the Folk Music Ontario event in London. 
Contact East, organized by the Atlantic Presenters Association, is a vital event on Atlantic Canada's performing arts calendar. This conference brings together artists, presenters, managers, and agents from around the world. It's a unique opportunity to witness diverse artistic performances, engage in pitch sessions, and network with industry professionals. Ammoye's presence at such a prestigious gathering underscores her growing influence. 
Folk Music Ontario (FMO) is a crucial organization supporting Canada's folk, roots, and traditional music community. FMO plays a pivotal role in nurturing folk musicians, helping them expand their reach and build lasting careers. Ammoye's participation in the FMO event showcases her versatility as an artist who can bridge different genres and traditions. 
The Mosaïq Multicultural Festival 2023 exemplifies Ammoye's dedication to inclusivity and diversity. This event is designed to celebrate the rich tapestry of cultures within Canada's communities. Through her music, Ammoye embodies the festival's mission to promote unity and understanding, transcending cultural boundaries.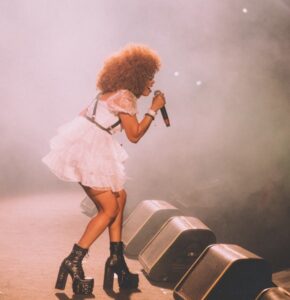 In a world where music has the power to connect people across backgrounds, Ammoye emerges as a true lightworker and soul rebel. With her unique fusion of reggae and other genres, she continues to grace stages at events like Contact East, Mosaïq Multicultural Festival, and Folk Music Ontario, Ammoye solidifies her position as a rising star not only in Canada but on the global music scene.