Bernie Pitters is one of the most legendary reggae musicians in Canadian music history. He has worked with elite reggae singers and musicians worldwide and has toured the world many times, creating sweet melodies on his keyboards.
Bernie Pitters was Born in Birmingham, England, and moved to Jamaica when he was eight years old. He attended the St Michael's Primary School and got a Common Entrance scholarship to attend Excelsior High School.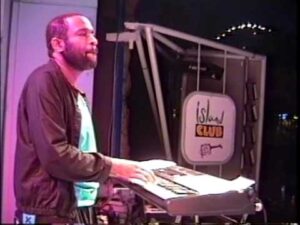 Bernie learned to play the keyboard when he was a student at Excelsior High School. His classmate Earl 'Wyre' Lindo, who went on to play with Bob Marley and the Wailers, taught him how to play the instrument. After he finished high school, Bernie became a member of the Super Fenders Band and later joined the Otravis Band, which eventually came to Canada on tour.
Bernie Pitters visited Canada in 1976 and fell in love with the country. There was a lot of employment for him as a musician and possessing a British passport made things easier for him.
When he arrived in Canada, the reggae community was small, and he eventually became one of the architects in creating the Canadian reggae scene.
He left Otravis and became a member of Ishan People Band, with Johnny Osbourne as lead vocalist.  Bernie later joined the Leroy Sibbles Band and stayed a member for ten years. The proficient keyboardist's big break came when he became a keyboard player with the legendary Toots and The Maytals and toured with the band for ten years. With Toots, Bernie toured the world twice per year for ten years.
In his earlier years in Canada, Bernie started bands like Livestock, Hit Squad, and Reggae Allstars and was involved in a few behind-the-scenes happenings. "Babsy Grange was the only booking agent for artists in Toronto in those days, and when she went back to Jamaica, she left a void", said Bernie. "I am one of the persons who encouraged Denise Jones and Allan Jones to move from Sudbury and start their agency in Toronto", he continued. "Allan Jones and I were schoolmates at Excelsior High School."
Bernie Pitters has received several awards throughout his career.  He holds the record of receiving the most awards given to an individual by the Canadian Reggae Music Awards, totaling 20. Bernie is an inductee in the Black Musicians Museum in Toronto. He was awarded a gold record for playing the keyboard on the Bruce Cockburn hit song 'Rumours of Glory'.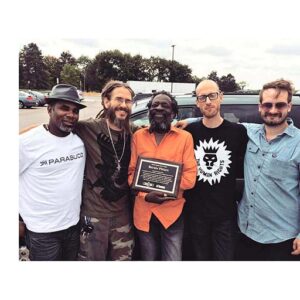 Bernie was producing music in the studio throughout those years. He recorded some classic music with R Zee Jackson, Leroy Artist Brown with Sly and Robbie, Jay Douglas, Blessed, Treson, and more. Bernie is the father of four sons, the youngest is the only one that followed his footstep as a musician.
In 2007, Friendlyness and Human Rights were formed with Bernie Pitters as a foundation member. Bernie worked with the band from 2007 until 2019. Friendlyness recalls his first introduction to Bernie Pitters. "My first memories of the great Bernie Pitters were as a young teenager in the mid-'80s, going to Reggae stage shows mostly at the Concert Hall, a.k.a. the Masonic Temple", he said. "Bernie was the band leader for the top local backup band, Livestock, who used to play for the artists of the day from Jamaica. Bernie had a keyboard he could strap over his shoulder, and you saw him walking all over the stage, dancing, smiling, and sometimes disappearing".
The Human Rights dedicated their 'Reggae Strong' album to their keyboardist Bernie Pitters. His face graces the back of the record and the inside as part of the mural on Reggae Lane in Toronto's Eglinton West neighborhood. As Friendlyness explains, "Bernie is a godfather of the Canadian Reggae scene. He came to Canada in the '70s and studied organ with the great Jackie Mittoo".
For years, Bernie suffered from Diabetes and sight loss due to the disease. In 2019, he fell at home and broke his ankle. While receiving physical therapy at the hospital, he fell and broke his knee. Bernie Pitters is now living at a long-term care facility but remains in good spirits, laughing and joking the way you would expect if you knew him.
Musicians like Bernie Pitters have contributed to the development of Canadian music and deserve to be acknowledged and lauded for their work. Bernie would benefit from calls, visits and well wishes from former colleagues and friends to lift his spirit and remind him of how important he will always be to the reggae music community. To connect with Bernie, kindly forward contact information to us here at Reggae North, and we will gladly pass the information on to him.