Not even the COVID crisis could stop wedding bells from ringing in 2021, and as the world returns to some semblance of normalcy many top celebrities were eager to exchange vows and two of our Canadian reggae artists were no different.
October seemed to be a very busy month for nuptials in 2021. In our music circle Empress Divine and I- Noah decided to jump the broom amidst the chilly autumn season.
Empress Divine and Clayton 'I-Noah' Heslop tied the knot on October 2nd, 2021, at the Venetian Banquet Hall in Vaughan, Ontario. The couple spent years nurturing a relationship that began via a meeting on social media. "We met through social media years back through music and became friends until our relationship manifested to where we are today", Divine said. "I feel like the stars have finally aligned and I'm so grateful for our union".
The groom stated his happiness to finally be married to the woman he loves. "Marriage is a blessing, so I feel blessed and honoured to be with a woman I love and raspect…. Greatness", I-Noah said.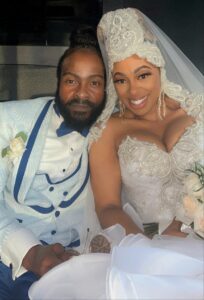 The couple agreed that their wedding was beautiful and a day that they will never forget. "We had a great turn out and things went according to plan despite the pandemic, so we are so grateful", they said.
The Heslop's wedding was hosted by Supa Dave, and guests included singer Dianna and Black Orchid. Empress Divine is popularly known for songs such as 'Natty Haffi Grow' and 'Real Friends'.  Her husband I-Noah's 'Clean & Fresh' and 'Jah Will be There' are two of his more popular releases.