I enjoy playing music by my fellow Canadian reggae artists on my radio show in Florida. I appreciate that I now have a platform on Blaze FM, WJUP 103.9 LP FM, to present our artists and their music to an audience outside the spaces here in Canada. My email is now overwhelmed with songs and requests from artists as far as Africa. I enjoy reading the messages I receive from fellow radio DJs, enquiring about a particular song I played on one of my shows. I get pumped when they ask for songs recorded by Canadian artists that they heard for the first time and want to add to their playlist.
Recently, I received requests from a few DJs for two songs from one of my favourite Canadian female vocalists, Ms Paige. I have been playing 'Loving Somebody', my favourite track from the artist and 'Loving You' on my show. Some may say these are older songs because they were released three years and eight years ago respectively, but to those who are hearing them for the first time, they are great songs that they are happy to discover and add to their playlists. I found myself researching Ms Paige and her music on social media and I was reminded who this talented, multi-instrumentalist, singer/songwriter who exist in our midst truly is.
Ms Paige (née Ashley Johnson) was born into a musical family. The daughter of R&B recording artist & six-time Juno nominee Debbie Johnson, and grandchild of Trinidad's singing sweethearts, Ed & Angie Johnson, Ms Paige's musical destiny was embedded in her DNA from the start. She embarked on her musical career at an early age, beginning with piano lessons at age five years, and writing her songs by age seven. Since then, she has added the violin, piccolo, flute, and saxophone to her instrumental repertoire. By the tender age of ten, she completed three studio recordings for The Canadian Sesame Street. Soon to follow, at age eleven, Ashley was featured on three singles for environmentalist, David Suzuki's, studio album, 'Amazing Journey'.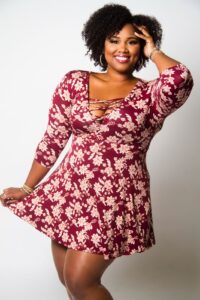 Ms Paige truly began to make her mark in music in 2009, collaborating with producers Derek Brin & Gary Serrao on the Red Bonez Riddim with her single, 'Man Fi Borrow'. The groovy soca single was on Toronto-Lime.com's top 20 countdown for 15 weeks, peaking at #2, and reaching #58 on the top 100 soca of 2009 on Toronto-Lime.com and KOSradio. In 2013, she began exploring the world of lover's rock reggae. To date, she has written and released over 35 soca and reggae songs and has had the honour of performing across Canada and on stages in Trinidad, Miami, and New York with many well-respected entertainers, including the likes of Tarrus Riley, Beres Hammond, Bunji Garlin, Destra Garcia and Omarion to name a few.
As a singer/songwriter, she received both the 2013 and 2016 award for Caribbean Music & Entertainment's Top Soca Artist, as well as several nominations, including the Black Canadian Award for Best Caribbean Style Artist, St. Vincent & the Grenadines SVG AMP's Reggae Single of the Year, and International Music & Entertainment Association's Reggae Song of the Year. Ms Paige is wholeheartedly dedicated to evolving in her craft and will inevitably leave her unique musical footprint on the world.
I await the next release from this super-talented sista.  Since her latest single 'Downlow' was released in the summer of 2018, I have not heard any new music from Ms Paige. Hopefully, she is in the creative process, and there are more great compositions and recordings in the works. Until then, I will keep adding music from her catalogue to my playlist and continue to feed her music to anyone who is hungry to consume great music.
Follow and support Ms Paige on all Social Networks @MsPaigeMusic
Instagram | Twitter | Facebook | Soundcloud | YouTube | ReverbNation | LinkedIn