When he is playing his instruments on stage, David Jackson might not be the headliner, but his skills on the keyboard, flair and animated energy catches your attention and keeps it there for the duration.
David Jackson does not consider himself a great keyboardist, but he always gives his all when he performs. He says the music moves him and spills over when he is playing. "People say that I bring a little something different," he said. "Music puts a lasting smile on my face, so if my performance can put a smile on someone's face or uplift them in any way, I'm succeeding in sharing a part of my musical spirit."
Jackson started playing music when his grandmother wanted him to play the organ for her church, so she enrolled him in an accordion class. It wasn't much fun for him, so it was short-lived. She then enrolled him in organ lessons, which again was short-lived. His mother then got him to study conservatory piano, which he did for many years as a child. During that time, he began to play the viola/violin and excelled greatly to the point that it was his number one instrument through high school and beyond.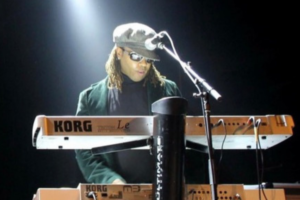 Music was always a big part of Jackson's family.  His mother and aunt would regularly play songs in the home when he was a child. "They would simultaneously dance to Studio One hits or disco and reminisce about the old days," he said. Though reggae was constantly being played at home, he did not gravitate to the sound until years after. "The funny thing is that growing up, even though reggae, disco & soul was around me, being Canadian, I was listening to pop and rock with all my friends."
According to Jackson, during his youth, reggae was never his first choice of music.  It was coincidental how he eventually began embracing the genre. "In high school, I had my childhood friends playing in a band called Fujahtive.  It was always a party atmosphere," he said. "I pretended to be their promotional manager, and one day the lead singer who was also my best childhood friend said, 'you're going to play keyboards for the band now'. The original keyboardist was leaving the band to pursue post-secondary education, so I was thrown into the fire."
After several years together playing locally and touring across Canada, the band broke up. Words got out that he wasn't with Fujahtive anymore, and artists started reaching out to him. "I started playing with the band The Reggae Ruffins, then moved to the Wailing Souljahs, who became Temple of Roots and then LeeJahn, he said. "Eventually, I hooked up with Michael Garrick and the Posse whose members included Charles Sinclair on the bass, Wyz Malcolm on guitar/keyboards, I-Sax and a few different drummers over the time," he continued. "This is when things took shape, as I was with veterans in the industry who helped me understand the music wholly and how to be entrenched in the feel, no matter the genre."
Jackson's love for reggae blossomed during this time and is now an integral part of his musical life. "The Posse transitioned to The Hardcore Band that you see today. I also often get together with fellow musicians to form units to play with local or international artists," he said. "As individuals, we are weak, but together, we are strong. This is what I live by, and I love the musicians I have the honour of working with to make something beautiful. That is why I give my 100% to anyone I work with."
Jackson has been fortunate to have supported artists in our community, but also very fortunate to have played with some of the top Reggae acts in the world. He has shared the stage with Michael Rose, Mutabaruka, Black Uhuru, Morgan Heritage, Junior Reid, Marcia Griffiths, Judy Mowatt, and The Mighty Diamonds to name a few. Jackson and his bandmates are slated to perform with the iconic group The Stylistics in an upcoming show. David Jackson won't be hard to miss.  He will be the focused keyboard player on stage with flair and animated energy.