Award-winning and Juno-nominated reggae-recording artists Andru Branch & Halfway Tree are releasing their much-anticipated fourth full-length album 'Weather the Storm' on Friday, October 8th, 2021.
Championing the preservation of authentic roots reggae music, the timeless message of peace, love and unity, the album combines poignant lyrics, haunting melodies, sumptuous harmonies, hypnotic grooves with powerful horn lines reminiscent of the golden age of reggae. "I think this album reflects an emotional maturity," says Branch. "With age comes wisdom, and I believe that we become less inhibited to show our vulnerable side as we mature. Artists tend to speak the truth of collective consciousness, and I think that honesty makes for powerful art."
According to Andru Branch the album 'Weather the Storm' is darker than the previous three albums released by the group and believes it reflects the current state of the world. From the first song' 'We are One, the title track 'Weather the Storm', the infectious Nah go Bow to the final song 'Guide & Protect Me' the message is evident throughout the ten-track album. "This album speaks of dread times, hopefully some light shines through," he said. "Influences from the masters who taught me how to do what I do are readily apparent, from Bob Marley to Burning Spear, right back to Pink Floyd".
The Award-winning Canadian recording artist named his band Halfway Tree after the bustling music district in Kingston, where he has worked with many of Jamaica's most celebrated musicians. From his Juno-nominated collaboration with members of The Wailers, Branch's single 'Keep on Keepin On' was recently named one of Exclaim! Magazine's "Essential Canadian Reggae Tracks", alongside Drake and Justin Bieber.
Celebrating 25 years of packed dance floors, Andru Branch & Halfway Tree continues to inspire fans around the globe, promoting equal rights and social justice. "I have been blessed with an ever-evolving line-up of many of the greatest reggae musicians in Canada, I am proud to have been able to maintain the same sound for over twenty-five years".
Andru branch is looking forward to bringing the authentic roots reggae sound they preserved over the years to festivals across the country next summer as they tour the new album. They also aspire to perform in Europe for the first time in 2022.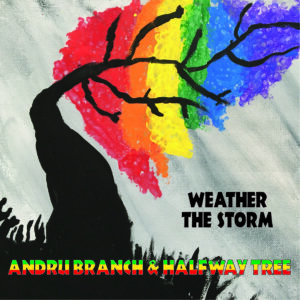 Fans in Halifax can check out Andru Branch & Halfway Tree album launch on Friday, October 8th at The Marquee Ballroom, with special guest Jah'Mila Smith and TOP KAT AMAZONA SOUND.
Follow and Support Andru Branch and HalfWay Tree on social media:
Website @www.halfwaytree.ca
Facebook @andru.branch
Instagram @halfwaytreemusic
Twitter @andrubranch
Youtube @www.youtube.com/user/Halfwaytreemusic