Victor 'Tipper' Henry is well-known for his culinary skills, working as an executive chef in Canada for many years, in addition to his healthy style Jamaican dishes he sold at his famous 'Tipper's Food' Restaurant. If you were a party goer in Toronto in the early 1970s, he was the owner and selector of the popular 'Tipper Tone HiFi' Sound system for dances and parties.
Tipper is now retired from the restaurant business but works as a freelance chef and does food workshops promoting healthy recipes and healthy living. On the musical front, many describe him as a walking encyclopedia on reggae music and its history. Tipper constantly posts historical moments of reggae on his Facebook page and can be heard regularly giving radio and podcast interviews about the history of reggae in Canada, Jamaica, and elsewhere. 
Victor 'Tipper' Henry hails from Mavis Bank, East rural St Andrew, Jamaica. Before music and cooking, Tipper was a farmer and a mason. He worked and learned the construction craft from his grandfather and eventually became a sought-after tradesman.
Tipper's father owned properties in several parts of Kingston – Law Street, Slipe Road, Dunkirk, and Greenwich Farm. He also owned a barber shop located on Orange Street in Kingston, close to the leading record shops and top producers of the day. Recording studios like Beverley Records, Studio One, Bunny Lee, and Lee Scratch Perry were within walking distance.  It was through this association that Tipper got engrossed in the music world. He frequently visited studios like Studio One, Lee Perry, and Bunny Striker Lee and met many artists of the day like Roy Shirley, Ken Booth, John Holt, Nana Mclean, and Marcia Griffiths.
In 1969, Tipper attended culinary school in Bermuda for a year. In 1970 after he returned to Jamaica, he migrated to Toronto. As soon as he arrived in Canada, he got a job working for the Holiday Inn in Toronto as a Sous Chef. Tipper then attended Humber college, and after graduation, he got promoted to an executive chef at the same hotel.
Six months after migrating to Canada, Tipper got started in music. After attending parties and events on the weekends and seeing the equipment the DJs were using, he decided to buy proper equipment and build a sound system.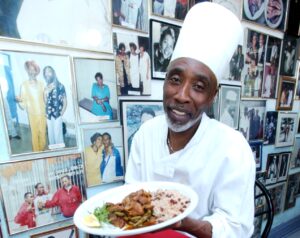 Tipper named his sound 'Soul Dug' a party sound for which he was the selector.  'Soul Dug' at that time played different genres and grew in popularity. The sound got hired to play at parties in basements, banquet halls, and the Masonic Temple (concert Hall) in downtown Toronto. 
During the emergence of 'Soul Dug' between 1970 to 1979, there were few sound systems playing around Toronto at the time. Duke Reid and Dudley were the other main sounds, and eventually, Jammys emerged and started playing Rub a dub reggae music.  
Tipper got inspired by the music Jammys played at parties and decided to change his sound's name from 'Soul Dug' to 'Tipper Tone HiFi'. "Sounds like Jammys came about playing reggae music which was getting more prevalent at the time, and I wanted to play more rub a dub music, so I changed the name," he said. 
Tipper recalls other sounds like Upsetter, Stereograph, and Black Roots started to emerge around the time, and that's when the sound business in Toronto got more competitive. "When I changed to playing rub a dub, the sound got more popular," he said.
"I was getting pre-release records and dubplates from king Tubbys, Arrows, Bunny Lee, and Studio One in Jamaica. I also got tons of pre-release records from Canadian producer Sydney 'Luddy Pioneer' Crooks who was recording artiste living in Canada at the time, like Carlene Davis, Johnny Osbourne, and the Pioneers", he said.
Reminiscing about Dancehall in Canada back in the 1980s, Tipper recalls halls packed before 10 pm depending on which sound is playing. "Sounds used to play together in the same hall, but not in a clash setting," he said.
At any given time, Tipper Tone had many artists from Jamaica working on the sound, like Johnny Ringo and Papa San. Canadians DJs such as Bobby Zarro, Kitty Puss, Andy Don, Chester Miller, Sugar Man worked on the sound as well, and Wally Richie appeared regularly.
Tipper Tone was one of the first sounds in Canada that started cutting dubplates as early as 1975. Tipper still has his receipt to prove it. In those days, performing with a complete sound system was not very lucrative. Tipper said it was about the love of the music and people having a great time together. 
"There was no money in the sound business in those days, we usually paid anywhere between $150- $300 per night", he said. "We had a crew, but those guys didn't work on the sound for money; they did it for the love of music", Tipper continued. "Every dance the guys would lift boxes and help string the sound and enjoyed the dance after".
In 1986, Tipper left the sound business to focus on his career as an Executive Chef. He accepted a job in Montreal, developing recipes for Miracle Mart, the Steinburg group and worked with them for 12 years. 
Inspired by the late Lance Ingleton of Lip Productions, Tipper opened his restaurant 'Tipper's Food' on Weston Road in Toronto. "Lance and I linked together, I worked on the food side, and he worked on the entertainment side", he said. "Lance would bring artists from around the world to perform in Canada. "Not only artists, but he brought noted celebrities like Johnny Cochran and all who he brought to Canada, I catered for them". 
Tipper's specialty was Caribbean food with an international flavor, preparing the meals to suit the palate of whomever he was catering for. 'Tipper's Food' developed a reputation, and Jamaican celebrities who visited Canada patronized Tippers Restaurant for its meals, hence the collage of pictures of celebrities that lace the wall of fame in his establishment.
Tipper is the architect of the Taste of the Caribbean and African Food Expo, which functioned for 21 years (1999 to 2010). The organization produced workshops and seminars teaching people how to prepare African and Caribbean food healthily. The Heart and Stroke Foundation of Canada and Sandals were their main sponsors.
Victor Tipper Henry has been the recipient of numerous awards for his work in music and his work with food. He was awarded the Good Samaritan Award at Unsung Heroes for his work with the Taste of Caribbean African Food Expo. He received the Canadian Reggae Music Awards for the top sound system in 1985. The Canadian Reggae music award of Merit and the Pioneer Award for music in Toronto and several other awards for food.
Tipper is a true historian of reggae who remembers the works of people like legendary producer Sydney 'Luddy Pioneer' Crooks, and Promoter Lance Ingleton, who brought in the top reggae acts from around the world to Canada. He remembers great musicians and artists like Jackie Mittoo, RZee Jackson, Jimmy Reid, Leroy Brown, Karl Mullings, Leroy Sibbles, Winston Hewitt, and Guitarist Lorenzo for their work in creating music in Canada. 
He speaks about record shops like S and W records, and Record Factory where he purchased music many times. Tipper recalls the first reggae program on a commercial station at 99.1 with PV Smith called 'Reggae in the City'. He chooses to remember the many who have contributed to the foundation of reggae in Canadian.
To this day, Victor 'Tipper' Henry has the receipt for musical equipment he purchased many years ago. He kept posters and receipts from shows he attended; proof he was present at these events. Tipper still has clippings from the daily gleaner that his mom gave him dated 1955 when Queen Elizabeth received her Crown in England.
Tipper has contributed to music and food development in our community and is determined to preserve the history and tell the story of our Jamaican culture to anyone who is willing to listen.