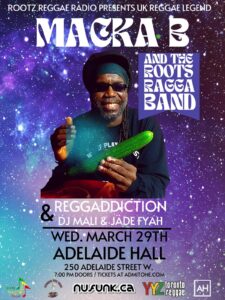 United Kingdom Reggae legend Macka B makes his Toronto debut Wednesday, March 29th, at Adelaide Hall in Toronto, backed by the Roots Ragga Band.  Reggaddiction, DJ Mali and Jade Fyah will be the opening acts for the night.
One of the legendary toasters in reggae music for nearly four decades, Macka B has used his incredibly unique voice and powerful music to push dancehall music back to Rastafarian consciousness while tending to other branches of the reggae tree-like dub, roots reggae and lover's rock.
Macka B possesses one of the richest voices in reggae music, balancing gentleness, and ferocity in every performance.  His vast, expansive catalogue of songs is a testament to his massive lyrical prowess, displaying a remarkable ability to move between serious and more lighthearted subject matter in a way few other artists can.
His ongoing "Medical Mondays" series on YouTube, promoting health and wellness, has brought him to a new audience outside the reggae world.  With a stage presence to match his legendary output, Macka B & The Roots Ragga Band always put on a special show that all music lovers, not just reggae heads, are sure to enjoy.
Christopher MacFarlane, better known as Macka B, is a British-born Jamaican reggae artist, performer and activist with a music career spanning thirty years.
As a practising rastaman, Macka B's music is based around the political and spiritual message of the religion, with an often light and humorous touch.  -Working with record producer the Mad Professor, he combined dancehall and dub-style reggae, purposely avoiding a more commercial crossover approach.  Macka B takes his name from the Judean rebels against the Greeks, the Maccabees.