The Victoria Ska and Reggae Festival/Society is celebrating its 23rd year in 2022. This year's edition from June 22nd to 26th in Victoria, British Columbia is the festival's first since 2019 and features a grab-bag of talent from across Canada and the globe.
Thirty-five plus acts from Jamaica, Colombia, Brazil, New Zealand, England, West Indies, USA, and Canada will be in the beautiful city of Victoria, on the Island entertaining their hearts out. "It has been three years since we celebrated our 20th Anniversary in June 2019, we are finally back at it", said the organizers in a statement on the festival's Facebook page.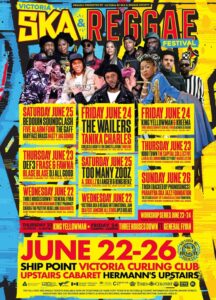 The 2022 fest will include performances by King Yellowman, K'reema, The Wailers, Bedouin Soundclash, Five Alarm Funk, Too Many Z, A. Skillzooz, Katchafire, Babyface Brass, Kobo Town, Three Houses Down featuring General Fyah, Toronto's Trish, Steele and many, many more from around the globe.
Trish Campbell is a singer/songwriter, model, dancer, and actress, born and raised in Toronto. Her unique vibe and falsetto paired with her natural ability to use her body to guide the music are electrifying. She is heavily influenced by her father, musician Tony Campbell, who religiously told her to use her voice as an instrument which she does with an electronic sound.
Trish is honored and excited to be apart of the lineup of artists performing at Ska fest this year. "I am going out there to pay some homage and bring good vibes", she said.  "Not a lot of people know my start in music was singing with my dad and some of the reggae bands in Toronto. Eventually when I was introduced to Ska music, I fell in love with the vibes.  I can't wait to perform at Ska Fest with the Phonosonics".
Trish and Phonosonics hit the stage on Sunday, June 26th along with Parahyba Ska Jazz Foundation, DonKristobal, The Steadies, Buddy Jay's Jamaica Jazz Band & Young Royal live at Ship Point.
Three times JUNO nominee and multiple award-winning singers Steele and the Mob Squad Band take the stage on Wednesday, June 22nd at Ship Point. Steele is described as dynamic and sensational, with the versatility and range that defies restriction to any one genre. He is as captivating in his handling of R&B material as he is with soul, reggae, classical, and jazz, but make no mistake. REGGAE is his first love.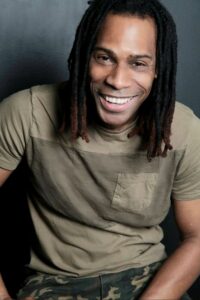 Organizers of Victoria Ska and Reggae Festival/Society reminded supporters that the festival does not only present "ska" and "reggae" as its title indicates. "While those genres are the focus and are inherent in most of the acts, the festival still has a fair number of acts that are not ska or reggae bands at all", they said.
"We like that because other genres that are connected to Jamaican rooted genres such as hip hop, funk, jazz, latin, cumbia, soul, and folk blend in well", the organizers continued. "We also make sure to mix bands, so they complement each other.  We see "ska" as the grandmother or grandfather of other Jamaican rooted genres such as rocksteady, reggae, dub dancehall, and more".
According to organizers, almost all shows are open for all ages, with beverage service for attendees aged 19 years and older. Kids 10 and under are free. All tickets are super affordable and there are plenty of free shows to enjoy so $$$ will NOT be a barrier for anyone.