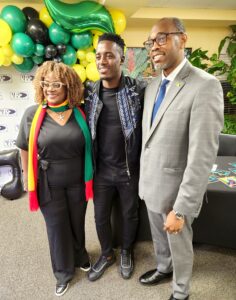 In a gathering of some of the Greater Toronto Area (GTA) brand ambassadors, influencers, artists, and industry leaders, the Jamaican Consulate hosted a celebration for none other than the distinguished reggae star, Romain Virgo. The festivities unfolded on Thursday, November 9th, setting the stage for a weekend filled with musical enchantment and camaraderie.
Romain Virgo, renowned for his soulful crooning and lyrical prowess, is currently in Toronto for a live performance at Redemption on Friday, November 10th, at the Rebel Nightclub. This special event, titled "The 90's Reggae Story," promises an immersive experience, with Romain and his full band taking the audience on a musical journey through the iconic era of reggae. The event is presented by Dbandit, a name synonymous with curating unforgettable musical experiences.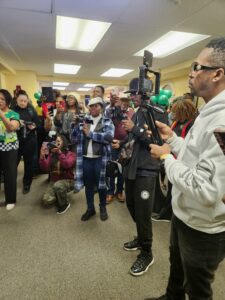 The meet and greet at the Jamaican Consulate offered a unique opportunity for the GTA's cultural influencers to come together and honor Romain Virgo. Virgo, known as the 'Love Doctor,' graciously shared insights into his ventures in the music business, delving into the intricacies of his latest single, 'Switch You On,' and offering a glimpse into his highly anticipated album scheduled for release in 2024.
'Switch You On,' a melodic song by Virgo, is produced by the legendary Don Corleone. The track is already making waves on various social media platforms, including Spotify and Apple Music. Virgo expressed his excitement about collaborating with Don Corleone once again, citing the producer's growth and ability to fuse new sounds while maintaining the authenticity of lovers' rock music.
During the meet and greet, publicist Natasha Von Castle of VP Records skillfully orchestrated the evening, providing a platform for the reggae star to connect with fans and share his musical journey. Virgo expressed his admiration for Don Corleone's evolving musical style, noting that their collaboration for the upcoming album would feature a mix of roots music, afrobeat, and other eclectic sounds, while still staying true to his artistic identity.
Romain Virgo, often hailed as one of reggae's foremost crooners, was born and raised in Stepney, St. Ann, in a home where singing was a central theme. Raised in a Christian family, Virgo's musical roots were nurtured by singing together every Saturday night, a tradition that allowed them to share their voices with their church community on Sunday mornings.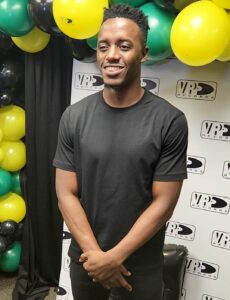 The reggae sensation has already left an indelible mark on the music industry with three albums to his name – 'Romain Virgo' (2010), 'The System' (2012), and 'Love Sick' (2018). Additionally, he has released nineteen singles, including chart-toppers like 'Soul Provider,' 'Stronger,' 'Beautiful to Me,' and 'Star Across The Sky.' Virgo's music has garnered widespread acclaim, accumulating over 57.2 million streams on YouTube, 4.5 million on Spotify, and 24.2 million on Pandora.
Virgo's unique blend of lyrical storytelling and sonic style, often likened to 'Marvin Gaye with a Reggae/Dancehall vibe,' has resonated with music lovers worldwide. His popularity extends beyond Jamaica, with significant radio play in key markets such as the United States, the UK, the Caribbean, and, of course, Canada.
Notably, Romain Virgo's live performances have become a global sensation, with tours spanning Africa, Canada, the United States, and the U.K., solidifying his status as one of the most requested reggae artists. His YouTube channel features the self-produced online series 'The Virgo's,' providing a captivating glimpse into the bustling Virgo household.
As the night concluded at the Jamaican Consulate, the air was filled with a sense of anticipation for Romain Virgo's upcoming performance at Redemption.