Renee Brown, better known as BLK ORCHID, is a rising star in the music industry. With a wealth of talents, including being a 3-times JUNO-nominated producer, singer-songwriter, multi-instrumentalist, artist, remixer, business owner, sample curator, content creator, model, music NFT enthusiast and collector, graphic artist, pole dancer, vinyl collector, she has quickly become a force.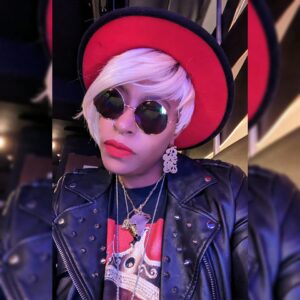 Born out of struggles and adversities, her latest single, 'Keep Pushing,' is a testament to her resilience and determination. With the help of Grammy Award-winning Jamaican producer SOS Dynamikz, BLK ORCHID has created a powerful soundscape that captures her thought-provoking and moving lyrics. This song marks her first release of the year and is accompanied by a limited-edition music NFT drop on Sound. XYZ, one of the largest music NFT platforms in Web3.
BLK ORCHID made the decision to leave her job in health care two years ago, after a traumatic incident at work. Since then, she has accomplished a lot over a short period of time, adding 2 JUNO nominations as a producer in the Children's Album category, working with some of the biggest names in the industry, and growing her brand, That's A Dope Sample, to over 9k followers across all socials.
Her music has been played and placed on numerous radio stations locally and internationally, and her songs have been synced in TV shows. She has also become a pioneer in the NFT space, minting her music as NFTs and becoming a collector and enthusiast, and has also learned to play the guitar, started pole dancing, incorporated her business, and lost over 50 lbs, all while continuing to create new and exciting content.
Her production work on the back-to-back JUNO-nominated Children's Album of the Year in 2022 and 2023, 'Young Maestro,' is a great example of her incredible talent and creativity. This album is the first authentic hip-hop children's album made in Canada, featuring Canadian artists, producers, and musicians, and is the soundtrack to the book, 'Stick to Your Vision: Young Maestro goes to School.'
Following the success of the reggae single 'Single Girl Blues' featuring Empress Divine, BLK ORCHID is preparing to drop two new songs soon, one being an anniversary NFT drop, and the other being a new single from her soon-to-be-released album, 'Lovers Groove.' According to the artist, this album promises to be a mix of R&B, lovers rock, rub-a-dub, dancehall, and sometimes all in one, unlike anything you've heard before.
BLK ORCHID is a true trailblazer in the music industry. Her story of resilience and determination is inspiring, and her talents and accomplishments are remarkable. We can't wait to see what the future holds for this talented and versatile artist.
Follow and support BLK ORCHID on social media.
Instagram @iamblkorchid
Instagram @thatsadopesample
Twitter @iamblkorchid
Twitter @thatsadopesample
Tik Tok @iamblkorchid1
Facebook @Blk Orchid