Taste of the Caribbean (TOTC), in collaboration with Lula Lounge, is presenting the Stages Alumni Reunion event on Thursday, August 25th, 2022, at the popular live music venue Lula Lounge. Showtime is 8 pm.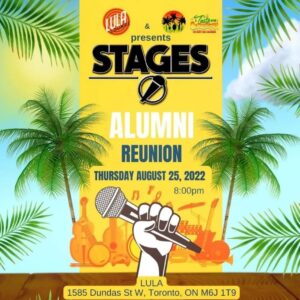 Lula is proud to have been part of the story of the evolution of Stages Canada series of shows and workshops that will continue to support its related artists at all points in their career development process. Now celebrating its 20th anniversary, Lula Lounge has become the home for Toronto's Latin, Brazilian, Caribbean, and global roots music.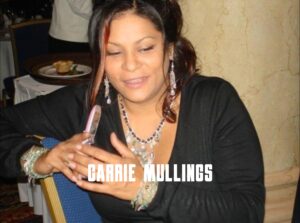 Popular radio host and the architect of Stages Canada Carrie Mullings understands the difficulties of being discovered in the music industry. She started Stages Canada to provide a live performance platform for newly emerging and well-seasoned artists of Caribbean genres (reggae, soca, zouk, konpa, dancehall, Reggaetón, lovers rock, etc.). She started a professional platform for artists to gain the knowledge & experience of touring along with the benefits of promotional exposure across Canada.
"Having the ability to share a dream and see it come to fruition has been the greatest feeling," Mullings said. "I can only take credit for planting the seed. The love I have for our culture and music built the success of Stages", she continued. "I believe in, support, and celebrate our talent and growth in their music careers. All the artists that participated and been showcased on Stages while at Lula Lounge (Dec 2015-2017) are the foundation of Stages".
Some of the Stages' alumni artists you might see at this event may include but are not limited to: Elaine Lil' Bit Shepherd, Kirk Diamond, Mikey Dangerous, Exco Levi, Ammoye, Tanya Mullings, Kafinal, Blessed, JRNYSTR, Lenn Hammond, Wade O Brown, Carlos Morgan, BLK Orchid, Natural Fyah, Razor B, Chizzy Bashment, just to name a few.
Featured performers at the Stages Alumni Reunion include Bonnie Owen, Vanda Li, Elby Braithwaite, Swick Don, Kid Fareigna, Onique, Fiyah MC, ZionOnMyMind, Planky & Leh Leh, Justice Kamar, Josemar, Kirk Diamond, and more. Founded in 2015 and presented at Lula Lounge on the last Tuesday of every month, Stages hosted almost 200 artists in just 2 years of the growth of the event.
TOTC's mission is to promote the diversity of Canada's Caribbean culture to all audiences; to form a better understanding and integration between cultures, as well as to influence Canadians of non-Caribbean descent to eventually travel to the Caribbean region, while at the same time, direct them to visit local Caribbean outlets in Canada, such as live performances/events, restaurants, retail stores, art galleries, related e-commerce sites of imported products, etc. A Taste of the Caribbean is an exotic experience for all your senses!
Social Media
Website: https://www.stagescanada.ca