Ron Nelson, DJ, broadcaster, music promoter, producer, and educator, received his star on The Scarborough Walk of Fame at the Scarborough Town Centre on Thursday, September 15th, 2022.
A renowned entertainment personality in Canada, Nelson was among ten new recipients inducted at the festive ceremony in the Town Centre's northwest main floor court. In 2006, the Scarborough Walk of Fame was created to honor individuals who bring pride to Scarborough and inspire tomorrow's leaders.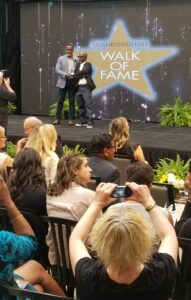 Cheers echoed around Scarborough Town Centre when Ron Nelson was called to receive his well-deserved honor. The noise grew louder during Nelson's acceptance speech while he paid homage to the areas in Scarborough that were populated by mostly black people during his early years.
Ron Nelson was visibly humbled and grateful as he thanked the organizers for recognizing his work in the Scarborough community and choosing to bestow such an honor on him. "I was totally surprised when I got the call and told I was selected to receive the walk of fame honor", Ron said. "I was like—Who? Who nominated me? How did I get here?" he continued. "One of the most beautiful things is knowing that I touched a lot of people's lives while doing something that I love. When you get older, there is ageism in our society, and people are basically ready to write you off; so, it's good to get your flowers when you are alive, healthy, and still here to appreciate it".
Ron Nelson is best known for his role in popularizing both hip hop and later dancehall and reggae music in Canada. He helped promote and develop early Canadian hip hop acts such as Maestro Fresh Wes, Michie Mee, Rumble & Strong, and the Dream Warriors.
Nelson is known as the "godfather of Toronto hip hop", he created Canada's first hip hop radio show, Fantastic Voyage, on CKLN FM in 1983. The Saturday afternoon show, which ran until 1991, became popular among Toronto youth and was the first exposure many had to the genre.  The show was one of the few broadcast outlets for hip hop in Canada during the 1980s.
Ron Nelson soon began organizing concerts, his first event being for the Kings of Rap. He went on to bring American hip hop artists to Canada for concerts and tours including the first major rap concert in Canada in 1987 when Run DMC, Public Enemy, and EPMD performed at Varsity Arena.
With the revenues from the concert, Nelson built "Apache", one of the first hip hop recording studios in Canada, in the basement of his Scarborough home. The studio, shared with Beat Factory was where Dream Warriors recorded their first album, 'And Now the Legacy Begins', on which Nelson is credited as a producer.
Nelson was the best-known hip-hop concert promoter in Toronto in the 1980s and early 1990s.  He often staged his events at Concert Hall (Toronto's Masonic Temple), where he featured international acts as well as giving exposure to local artists. He hosted events such as "Monster Jams" and "Rap Battles", where artists from Toronto and New York competed against each other.
As hip hop became more commercialized, Nelson became disillusioned with the genre and ended Fantastic Voyage in 1991. He transitioned to dancehall and reggae, deejaying around the city and promoting shows before returning to CKLN in 1993 to launch what became ReggaeMania, a Friday night radio show that continued CKLN until the radio station went off the air in 2011.
Ron Nelson was born in Pembroke Hall, Jamaica, and emigrated to Canada in 1972. He attended Ryerson Polytechnical Institute from 1983 to 1985, earning a degree in Radio and Television Arts. He taught a "Contemporary Black Urban Music" course at York University from 2005 until 2017.
Nelson currently owns and operates Reggaemania.com, an online hub that offers a 24-hour internet radio station called ReggaeMania Radio, podcasts, downloads, as well as news and concert listings.