Reggaddiction is an eleven-piece Toronto reggae collective that has been performing across Ontario and woodshedding for the past four years, perfecting the arrangements and recordings for their 'Ganja Harvest' album, a reggae interpretation of Neil Young's timeless 1972 album 'Harvest'."
On Saturday, December 10th, Reggaddiction will celebrate the release of 'Ganja Harvest' – a project 6 years in the making. All 10 songs are from Neil Young's legendary 'Harvest' album, now celebrating its 50th anniversary.  It features guest vocalists Jimmy Reid, Ammoye, Fergus Hambleton, Hermina George, and Sassafrass.  The album is mixed by the internationally acclaimed JUNO Award winner Dubmatix and is released on NuFunk Records.
The band will showcase choice cuts from the new album, other reggafied Canadiana Classic rock, plus fiery original music that includes a touch of Ska, Classic roots rock Reggae. Guest performers on the show include the Sattalites' Fergus Hambleton and Hermina George.
3030, a live venue at 3030 Dundas west, in Toronto's Junction neighborhood, strongly believes in removing financial barriers for music lovers so that everyone can experience all the talent that Toronto has to offer. This is one of Reggaddiction's favorite places to perform, and they are delighted that 3030 will be hosting the band free of charge for everyone in attendance!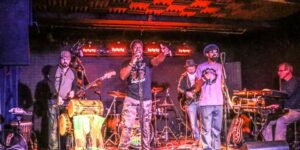 Reggaddiction is known for delivering crossover vibes, refreshing vocal harmonies, and powerful instrumental riddims, the group is fronted by a sensational vocal team comprised of Dave Matthews aka Dave Vocals, Trish Campbell, and singjay Sunray Grennan. The trio is supported on stage by a crack rhythm section including Sam Weller on Keys/Organ, Neil "Nemo" Morris on Bass, Jay Cleary on guitar, Kevin Howe on Percussion, band leader Oz Saunds on drums, plus a revolving cast of horn players.
Drummer and Studio Engineer Oz Saunds had been developing a studio project to remix the 'Harvest album as far back as 2016, working with some of the best musicians from Toronto's rich reggae community.  Launching the project as a live act, Ozzie recruited members of The Satalittes, The Arsenals, Ibadan, House of David Gang, and Feeling the One Drop to perform the material resulting in the formation of Reggaddiction.  The band made their live debut on February 6th, 2019, opening for Sister Nancy.
Since the debut, they have performed on some of the largest shows in Canada, including headlining the 2019 Beaches Jazz Festival at Woodbine Park with Otis Gayle and the 2019 Caribana launch party at Dundas Square with Carol Brown. Reggaddiction has also performed at the Q107 Canada Day Picnic.
Canada Broadcasting Corporation (CBC) selected the band's remix interpretation of 'A Man Needs a Maid' featuring Jimmy Reid for national radio airplay on CBC Radio One; and national airplay for additional singles from the 'Ganja Harvest album followed, including 'Harvest' on CBC's Big City Small World.
This event is free, show starts at 9:30 pm and fans attending can expect a night of togetherness, dance, and rejoicing in one love with Reggaddiction.
Follow Reggaddiction on social media
Website: @www.reggaddiction.com
Twitter: @reggaddiction
Facebook: @reggaddiction
Instagram: @reggaddiction