Dancehall artiste Rahz Don recently released a new video for his latest single, 'Bumpa Live' (Bad Gyal Professional). The uptempo beat and catchy lyrics have created a buzz in the dancehall world.
The video was shot in Toronto by videographer Ethan Mitchel and edited by Rahz Don. The 'Bubble Up' artist said that he got the idea to write 'Bumpa Live' (Bad Gyal Professional) after witnessing how women deal with the stresses of everyday life in the corporate world and wondered how they would act in a dancehall setting.
"The Influence for the song came after crossing paths with different professional women working in professional institutions and witnessing the stresses of their everyday hustle", he said.
"This song is an image of how I see them acting in a dancehall setting, letting loose and having fun as bad gyal professionals".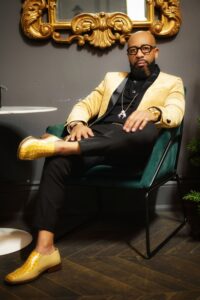 Dancehall artiste Rahz Don was born Kevin Green in Old Harbour, St Catherine, Jamaica. At a tender age, he was exposed to music by his uncles, who sang and played their bass guitars to dancehall and reggae music. Over many years, he would imitate some of his favorite artists like Beenie Man, Shaggy, Buju Banton, Dexta Daps, and Konshens and dream of being a star.
Rahz Don recorded his first song 'Rahzzle Dahzzle' in 2019 and released his follow-up single 'Bubble Up' the following year. In 2021 he released the track 'Guh Dung Guh Dung', which appeared on radio and video playlists in the diaspora and created a buzz in the dancehall circles in Canada, Jamaica, the Caribbean, and the UK.
 'Bumpa Live' (Bad Gyal Professional) is produced by Don League Productions and is available in all leading online stores.
Follow and support Rahz Don on social media
Instagram @rahz_don
Facebook @Rahz Don
Twitter @RahzDon
Audiomack @rahz-don