Phenique made sure her presence remained etched in the audience's minds as she performed as the opening act for Spice, the newly crowned Queen of Dancehall, on her last stop in Toronto on October 9, 2022. Her sexy look and seductive performance made everyone realize that it is just a matter of time before she elevates from being the Queen of the 6IX to one of the standard bearers of Dancehall.
The Queen's latest single, 'Balance' is creating a lot of buzz in the Dancehall circle, and the recently released video on YouTube has racked up over 40,000 views and counting.  She has released several songs and videos in her growing catalog; 'Sugar Daddy', 'Rush Hour, 'Nuh Beggy Beggy', 'Ride or Die, 'Legendary Love', 'Feelings', 'Another Coffin' and 'Dat Mi Like' featuring I Octane, to name a few.
Phenique, given the name Shanique Phoenix, was born and raised in Spanish Town, Jamaica. The 'Fake Friends' artist migrated to Canada at age 14, one year after discovering music was her passion. She classifies herself as "more of a Tomboy" growing up, choosing to be outside riding bikes, and playing soccer. One of her favorite hobbies was writing short stories, which helped her to articulate herself through creative written expression that has helped to develop her lyrical strength and proficiency.
Music was the vessel Phenique utilized to blossom into the rising star she is today. Music empowered her to free herself and shine a light of confidence. "Music has changed my life," she said. "It has moved me away from being an introvert. I am now more sociable. Music has helped to build my confidence and self-esteem."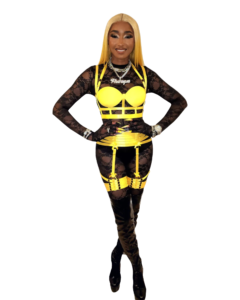 Phenique classifies her music as soft and smooth with rhythmic melodies and authentic Dancehall with a twist. The sexy vocalist identifies as a dancehall artist; however, in a city as diverse as Toronto, she is open to diving into the fusion with other genres such as Hip Hip, R&B, Afro Beats, Afro Swing, and Grime. While she is open to collaboration, Phenique is hard at work on her own musical progression as an artist, ensuring that her next song is her best yet.
The Queen of the 6IX is currently working on constantly dropping new videos and pledges to release a new song every month moving forward into 2023. The sexy vocalist's goals consist of getting her music received worldwide and collaborating with other artists to further her reach. Phenique's motto is to live each day as if it were your last.  It is apparent that she is making her next move, her best move!