Reggae and dancehall artist Neto Yuth has released his latest single 'High Grade Spot' featuring French DJ Daddy Mory. Produced by Soke & Heartical Youths Records and released on Evidence Music label, the song and video are already creating a buzz in Europe and elsewhere.
Neto Yuth, a francophone youth from Quebec, started DJing lyrics about 20 years ago. During those days, there were not many French reggae artists to emulate, but the best group from Paris to him was Raggasonic, which featured Daddy Mory and Big Red. They did DJ lyrics in French but still in a yard style which was unique.
Now, Neto Yuth has had the honor of collaborating with Daddy Mory, a legendary multi-platinum album selling artist who paved the way for all francophone reggae artists from the early 90s and is still relevant today after almost 40 years in the music business.
The idea to make this collaboration came about when Mory heard about Neto Yuth from a musical link they had in common. He discovered Neto's universe and decided to link with him. From that point, they started talking and realized that they shared the same passion for music and especially for the Jamaican culture. Step by step, the idea of working on a featuring made sense.
Neto already had a good reggae riddim from the producer Soke, one of the two members of Banx & Ranx. He told Mory that he would like to make a ganja tune following the Jamaican style and tradition. He didn't need to say more to convince Mory, the weed specialist who created his own strain in 2018, the famous Mory Kush.
Neto and Mory decided to go to Jamaica to shoot the video, one part in Waterhouse and in a ganja field close to Negril, Westmoreland, where the best weed in the world grows. The resulting music video is an ode to the beauty of Jamaica, its culture, and the healing properties of ganja.
'High Grade Spot' is an uplifting track that will make you want to embrace the positive vibes that reggae music brings. The collaboration between Neto Yuth and Daddy Mory has created something special, combining the French and Jamaican cultures to produce a unique sound that will surely stand the test of time.
Neto Yuth's dedication to reggae music is clear in every aspect of his work, from the lyrics to the production, and his passion for the Jamaican culture shines through in every note of 'High Grade Spot'. With Daddy Mory by his side, this talented artist is poised to take the reggae world by storm.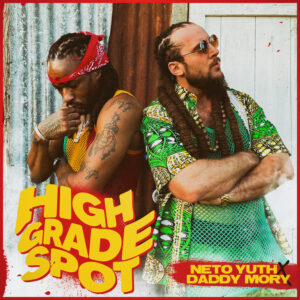 'High Grade Spot' is available on all leading online platforms. Don't miss out on this amazing collaboration between two legends of the reggae scene.