Nature Ellis' latest single 'Talk until U Blue' featuring Canadian singer Jade Faith has just entered The Jamaica Music Countdown Top 25 Reggae Single Chart. Produced by Bobby Crisas, the new single follows 'Sleepless Nights', another of Ellis' hits released on the B'Crisas label.
At 9-year-old, Montegonian Andre Ellis started performing at Glendevon All-Age and on local sound systems in his community.  He did not realize that the approval and popularity would have led to a lifetime career as Nature Ellis. In 2007, he saw his first two official singles 'Hold On' and 'Wasting Time' hitting the airwaves and making him known in not only his parish but the entire island and eventually worldwide. Produced by Heart of Love Records owned by famous footballer Ricardo Bibi Gardener, the tracks got rotation on radio and visuals for TV and made Nature Ellis a bonafide recording artiste that was booked and busy with performances worldwide.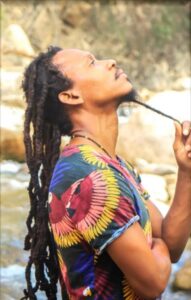 Nature Ellis has performed on major shows in Jamaica, the Caribbean, the United States and Brazil, he has had multiple European tours and performed on major festivals such as Reggae Jam.  The artiste also has had an extensive tour of Australia. What you can never do is put Nature Ellis in a box musically.  He considers himself a world artiste and will record tracks considered as R and B, Ska, Dancehall and Reggae. This is evident in his recent album called 'Awaken' that was released in 2020. The 'Awaken' was his first self-produced album project and consisted of 16 tracks which include a very inspirational intro produced by his label Preserve Nature Entertainment
Nature Ellis' music is about social commentary, love and overall, about bringing people together to unite through equal rights and justice. His music is catchy and relatable, touching on topics about everyday life and situations that occur globally. Other notable tracks for Nature include 'World Peace' and 'Love You' which were recorded while Nature was signed to DSR released on the Life's Journey album.
Nature Ellis, under his Preserve Nature Entertainment brand, now stands as an independent artist.  He is currently working on an EP647, produced by Ambassador of Choice Music. The first single from the project called 'To Jah' is a collaboration with Luciano currently out on all digital platforms. Already the track is getting a good response worldwide especially in Africa, Europe and Jamaica. The official visual has also been recently released.
For booking contact Bobby Crisas @ 647-534-7895
or bcrisas@gmail.com