While being a parent and making music during a pandemic, Natasha White aka Tasha T found time to study and recently graduated with high honours from Sheridan College with a diploma in Educational Support Program. She is now a qualified Teacher's Assistant/Educational Assistant (supporting children with special needs). "Being an educator will definitely add to my creative juice and bring additional inspiration to my music", she said.
Since 2011, reggae artist Tasha T has been working with Read Across Jamaica Foundation as a Musical Ambassador. Her 'Spread Some Love Tour' to Ethiopia in 2017 inspired and motivated her to pursue a career as an educator working with children, especially the ones with special needs. "Whenever I'm performing in different countries, I take the initiative to visit at least 1or 2 schools to share my theme song, Educate Yourself to educate the students about the importance of education through my music", Tasha said.
For years Tasha T donated school supplies and books to schools and has been invited to perform at schools in Canada during Black History month and Career Day. "Tasha T is a true role model who always encourages the children to stay in school, stay focused, and get a good education," says Janice Wisdom founder of Read Across Jamaica. International Canadian music conductor, Boris Brott, invited Tasha T to be the first reggae artiste to narrate and perform alongside his orchestra at the Brott Music Education Concert for children in Hamilton.
Tasha T has been a Musical Ambassador for many years and has been spreading strong positive messages throughout the world. She has contributed to making a difference in the reggae industry as a Recording Artist, Song Writer, Producer, Record Label Owner, Philanthropist, and Artiste Consultant.
She is recognized locally and internationally for her musical talent, starting with the Best Female Newcomer award in 1999. She is the first-ever reggae artiste in the history of the Indigenous Music Awards to be nominated for "Best International Indigenous Release" in 2015 and 2107. She was invited to perform at their show in Winnipeg, Canada; thereby helping to form stronger ties between reggae music in Canada and the Indigenous Community. She is a two-time JUNO Nominee for "Best Reggae Recording". In December 2012, the Governor-General of Canada awarded Tasha T with the "Queen Elizabeth II Diamond Jubilee Medal" for her dedication to her peers, community, and Canada.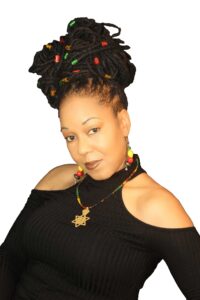 The World Citizen Artists (WCA) and the Bob Marley Foundation, Ghandi Foundation, and Belgravia Gallery, selected Tasha T as the Award Recipient, for 'Compete for Peace and Not War' competition in February 2018, for her inspirational composition "Spread Some Love." The judges described her winning entry as an energetic and soulful song that reminds us how the children of the world are affected by our actions. She was invited to perform and receive her award at the Soul Rebel 73rd birthday celebration of "Robert Nesta Marley" in Kingston, Jamaica and to partake at the Bob Marley's Foundation Charity School Tour.
Tasha T continues to promote her most recent release SMH (Social Media Hype) and fans can expect a new single titled Another Day releasing soon. The song is produced by Black Metro Music from out of England.
Be sure to keep up to date with Tasha T by following her social media channels.
FaceBook: @ Tasha T Music Official
Instagram: @ TashaTMusic
Twitter: @ TashaTMusic1
Website: www.TashaTMusic.com