Patricia Chin visited Jamaica in late August to promote her memoir, 'Miss Pat: My Reggae Music Journey', which recalls her 64-year career in the music business.
The matriarch of VP Records launched the 209-page book on August 26 at the University of the West Indies' Mona campus. She also donated copies to the National Library of Jamaica and Jamaica Library Service and did signings at locations throughout the country's capital.
'Miss Pat: My Reggae Music Journey' was officially released in March 2021 by the VP Music Group. Pat Chin and her husband Vincent started VP Records in 1979 in Queens, New York, shortly after migrating there from Jamaica.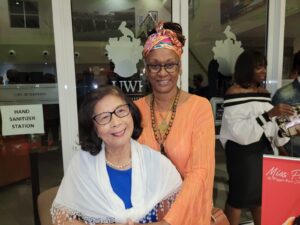 They got into the music business in 1958 with Randy's Records, a retail store which officially opened its famous 17 North Parade headquarters in downtown Kingston in 1962, the year Jamaica got independence from Britain.
Vincent died in 2003 but his wife, their sons Chris and Randy and daughter Angela, have made VP one of the most competitive independent record companies in the world. They are also the largest distributors of reggae.
During her trip to Jamaica, she visited the Alpha Institute, formerly Alpha Boys Home, in central Kingston. That school has produced musicians who were critical to the development of reggae including hornmen Don Drummond, Tommy McCook and Bobby Ellis, drummer Leroy "Horsemouth" Wallace and keyboardist Keith Sterling.
Miss Pat donated funds to Alpha that will cover the scholarships of two students at its music school — Teain Henry and Ashane Robertson.