Since establishing her Holy Ghost Pentecostal church in 2020, Minister Marion Hall has held online sermons and prayer sessions on Wednesdays and Sundays. But after previewing her new single I'm Doing Better last month, she was noticeably absent from her virtual church for almost a month, which she's attributing to her need to "go out and make money."
Hall recently opened up about her decision to refocus on music, having had financial challenges since venturing into preaching.  "I haven't been on for a while," she started.
"I told you a few months ago that I need to go work money… I told you that the reason I believe that the Lord shut me in so long is because the pandemic was coming, which I didn't have no idea when He said it was time to preach… However, times are hard, as you know, and sometimes I'll sit here with you and sometimes I get US$15 when I get off. I get $30, $100, $50, $20."
The Grammy Award-winner continued, "Whatever you have and you give to me, that's what I live off, so, because I have this gift to sing and that's where I make my money from, I told you I was going to start going into the studio and that's what's been happening."
Though she has released music since becoming a preacher, her focus has been on building her church which streams live from her Florida abode, and sometimes goes for four hours.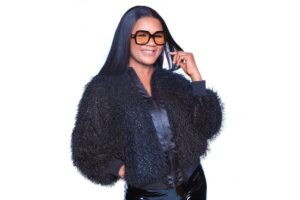 Since February this year, she has been working on projects with Grammy-winning musician Gramps Morgan and Downsound Records principal Joe Bogdanovich. The latter partnership has also sprung her return to Reggae Sumfest in July, a stage she last graced in 2015 as the formidable Lady Saw. She would give her life to God later that year, a journey that has seen her adjusting to a life without luxury, and almost being homeless.
"Little is much when God is in it and I was humble enough, sitting here sometimes only (getting) US$5, sometimes only $15, because I'm not monetised (on YouTube), and I sanctified and I blessed it and I thank you all for it," Hall noted during the recent sermon.
She's been seeing better days lately, shopping for Gucci dresses and enjoying the yacht life in the upcoming music video for I'm Doing Better.  For critics who interpret that as worshipping vanity, Hall said, "My heart is not conformed to the things of the world but God has a way to bless you with much when you were satisfied with little, so, don't hate on me now."
Hall became an ordained evangelist in 2018 at the Emmanuel Apostolic Church in Kingston, where she had previously been baptized. Her contemporaries Goddy Goddy and Ryan Mark are also preachers and church owners.
In 2021, Hall hinted that she would be pursuing royalties and publishing rights, of which she was allegedly cheated during her Dancehall heydays as Lady Saw.  At the time, she said that these monies will be put into her Ministry, to carry out the "work of the Lord", as they are rightfully due unto her.
This article was first published on Dancehallmag.com