Canadian recording artist, educator, writer, and world-renowned dub artist Michael St George continues his trek of spreading conscious and spiritual message worldwide in a recent performance at the 5 Lands Walk Festival in Australia. Coupled with a group of phenomenal musicians and a 15-piece choir, St George inspired the receptive audience with his lyrics and melodic sound.
The 5 Lands Walk Community Festival is a unique combination of a physical, spiritual, and cultural 10-kilometre walk along coastal beaches and headlands with community festivals held in five communities located along Central Coast Australia.  Ethnic communities are the focus in the other 4 lands, with music and culture being prominent.
Born in Portland, Jamaica, Michael St. George grew up in Kingston. He began performing live in 1985 and started recording in 1987. His conscious verse and fresh musical sound have earned him industry awards and peer recognition nationally and internationally. St George is inspired by his working-class upbringing; his work is dedicated to justice and social equity.
Michael St George has also shared stages and studios with such icons as Oku Onuora, The Last Poets, Culture, Burning Spear, Brinsley Ford, Lillian Allen, Luciano, Thomas Mapfumo, Mutabaruka, Mzwakhe Mbuli, Dennis Bovell, and the International Dub Band and Toots and the Maytals.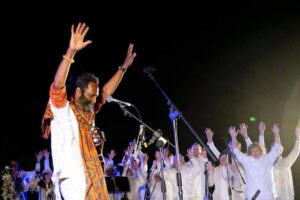 His latest EP, I Do Not Submit, was released at a time when the world pivoted into a new era of awareness, questioning, and harmony. Despite personal and collective challenges and the devastation that the creative industry is experiencing, St George remains optimistic and convicted in the brighter days ahead.