Meet Celena, the only first-time nominee of the five artists nominated in the Reggae Recording of the Year category at the 2023 Juno Awards.
Celena is a newbie on the Canadian music scene, she started her musical career in 2019, and now there are many queries about this talented artist who has gained some attention with her recent JUNO nomination for her song 'Like a Star.
The talented singer/songwriter was ecstatic when she received the news of her JUNO nomination and credited her success to working hard and following her dreams. "When I realized that I got nominated for a JUNO award, I was excited, humbled, and proud of myself," she said. "It also made me acknowledge that all the hard work I have been putting into my music career and being brave enough to follow my dreams are paying off."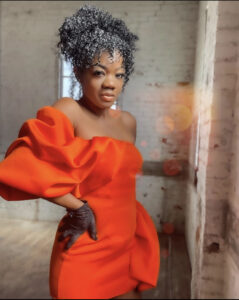 The multi-talented Celena writes all her songs and sings background vocals on 'the JUNO nominated 'Like a Star'.  She gives credit to her Producer/engineer Shakim, and her supportive husband. "My producer and I have been working together from the beginning of my musical career in 2019," Celena said. "During Covid, when we were uncertain of everything, music was a way of escape for me as well as therapy", she continued. "With the limited resources that I had, I decided to start filming my videos, and my husband assisted by capturing the footage, and I directed, produced, and edited the videos."
Sarita Amanda Clayton is from Manchester, Jamaica. The singer migrated to Canada in search of opportunities, new experiences, and a way to make her dreams a reality. As a child, Celena exuded a natural interest in entertaining and performing. From singing in the church choir to performing solo at local events, all those activities strengthened her abilities and improved her craft.
Celena says she brings a modern approach to reggae music with creative lyrics and a fresh sound. She is passionate about her craft, and writes and creates music that's relatable, inspiring, and empowering. Celena released her first EP 'I'mpossible' in October 2022. "The title is an affirmation to myself that I am possible and every dream that I have ever dreamt is attainable as long as I believe in myself and work hard", she said.
The 2023 JUNO nominee plans to keep making music and build on her catalog. "I want my music to be heard internationally, and I welcome opportunities where I can perform my songs and grow as an artist."
The other nominees in the 2023 Reggae Recording of the Year category are Ammoye –'Water', Exco Levi –'Jah Love', Kairo Mclean – 'In the Streets' and Kirk Diamond, Kairo Mclean and Finn – 'Reggae Party'.
 Follow and support Celena on social media.
Instagram.com/celenathis
Facebook.com/celenathis
Youtube.com/@celenathis
TikTok.com/@celenathis
https://open.spotify.com/album/4Dskj47REQZY3kD2UvaZXa?si=IsCpL3iCQvevwYwAasa4-w