In the summer of 2017, I received a call from Marcia Y Ford. I did not know who she was at the time, but she knew about me. During our conversation, she admitted being a big fan of my music, told me about attending a few of my shows, and her main reason for calling. Marcia wanted me to be a guest on her online magazine show Cottage Talk on which she is the producer and host.
I hesitated for a bit before giving her an answer because she told me she was based 2 hours away in Niagara Falls, and she produced the show there. Eventually, I agreed to do the show, and when I met her, she exuded confidence, and her drive to succeed was evident. After that, I performed at a few other events that she produced. I have always supported her ventures because she always included talented individuals from the local scene in her productions.
I watched her grow and developed a plethora of great things. Marcia became an author, writing, and self-publishing her book, "Searching for Love in all the Wrong Places", a counselor, a motivational speaker, and a very successful entrepreneur.
Today, Marcia Y. Ford is a self-made millionaire who has withstood the test of time and the changing demands of the entrepreneurial world and succeeded. She started as an event planner who owned her own catering business and worked her way to owning her very own hotel, "SueYenSue Place", located in the beautiful cockpit country of Trelawny, Jamaica.
Marcia strongly believes that people should pursue their dreams and strive for all their heart's desires. She is motivated by this thought, "You never know who you are inspiring with your journey until you have impacted the lives of others.  Only then have I truly lived".
I had a chat with the inspiring Marcia Y. Ford on her recent visit to Toronto, here is an excerpt from our conversation.
For those who are curious, define who is Marcia Y Ford?
I am a mother, caterer, published author and Television Producer/ host.  I am as real as it gets, I believe in my dream and my being, and this gives me purpose and vision. I know that my life and my walk is not just about me, but to live, love and impact the lives of others I meet along the way. Also, I am working to leave a legacy.
2. Listening to your conversations, I can tell you have had a colourful life experience. I sensed you have learnt many things and your mind, and your eyes now see and understand things differently; how has that contributed to who Marcia is today? 
My life experiences shape my everyday walk and the decisions that I make. The friends that I keep, my environment and just how I do business and how I care for myself my family and my community around me.
3. You worked as a caterer, author, motivational speaker, councillor, television show host. That depict a woman with many talents who is not afraid to utilize her gifts.  Talk about how all those experiences contributed to where you are today?
One of the experiences that shaped and added onto the woman that I am today is deciding to move back to my roots and open a private member Guest house "Sueyensue Place" with the guidance and support of my children and family under the The Sueyensue Group(TSG). I named it in respect to my Chinese lineage. It is located next to home where I was raised, in Warsop, Trelawny, Jamaica.
It was a difficult decision but one that I needed to make, because that is a vision that god placed in my heart. It taught me a lot about me as an individual and gave me a chance to re-invent myself and be able to participate and contribute to the development of my hometown and surrounding areas.
4.Talk about your family, how are you able to juggle all the pieces on your plate with being a mother and a wife?
You have heard of a saying, "it takes a village to raise a child". It is all thanks to a great support system; with a good foundation laid with a lot of prayer and fasting, and teamwork make the dream work. It all comes to allocating time and using it intentionally in all that I do.
5.I know you produced many events at your hotels and have great relationships with many artists in Jamaica. You and I have a great relationship and I am sure you have good relationships with other artists here as well, so when are you planning to bring a few Canadian artists to Jamaica to perform at one of your events?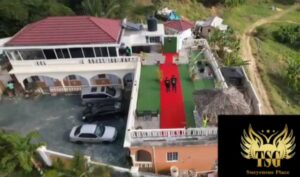 Yes, Tony very interesting question. Now that the pandemic has given us a little break for sure, there many exciting things will be happening here at Sueyensue Place, starting this October.
I will be relaunching and dedicating my premises scheduled close to my birthday. You are invited to come down! Ehehe. For sure, it is in the works to get Canadian talent to perform at the Sueyensue Place. Watch the space!
6."Cottage Talk" was a very educational and popular program, any thoughts about bringing it back.
As I shared above, now that we are post- Covid, you bet we are going back to studio to recreate, re-conceptualize and bring you an even better and content filled "Cottage Talk". I am working on another project dubbed "Bootstraps in one Brick". This will be more personal as it will be surrounding my life & journey as Marcia.Y. Ford.  Believe me, there is more to me than being Sueyensue.
7.Being such a creative woman with immense talents, what can people expect from you soon? 
I cannot give away much more than I have shared so far, but I can guarantee you, you are in for a "treat". Keep on the lookout. I have a few surprises under my sleeve, and you will get to know more about them when I am close to what we call "opening night". Ehehehe.
8. Please feel free to include additional contents that I did not ask about if you believe it would be beneficial to the article.
Thank you so much Tony for being a supportive friend and for sharing me with your readers, all these years.  I look forward to you and your team at the Sueyensue Place. You are welcome any time.  I also take this chance to thank my people in Trelawny for embracing me as their "home-girl". I hope that Sueyensue Place is an establishment they are proud of to have in their neighborhood. It feels great to be home!