Marcia Brown had the audience's undivided attention at the recently held Jamaican Canadian Association Anniversary and Jamaica 60th Independence Gala. Her comedic anecdotes coupled with Jamaican flavour had everyone laughing each time she touched the microphone.  That is the essence of Marcia Brown, playwright, actress, producer, director, and master of ceremonies extraordinaire. She can make you think, laugh and cry in one breath.
Marcia Brown is the founder and artistic director of Marcia Brown Productions. She is one of the premier female actresses in Toronto's Caribbean community with a reputation that affords her familiarity and trust among avid theatergoers.
As a youngster, Marcia was very active in her Ensom City Community in Spanish Town, Jamaica. She was an early leader and risk-taker as she founded the Ensom City Dance Club.  Armed with passion and no formal dance training, she led the group to silver and bronze medal awards in the Jamaica Cultural Development Commission festival dance competition. This accomplishment was so impressive that the principal of Ensom City All Age School called upon Marcia to be the dance teacher at the school's dance club.  This led to more success winning silver and bronze medals in the festival competitions.
In 1982, Marcia followed the path of curiosity to the Little Theatre Movement (LTM) National Pantomime auditions in Kingston, Jamaica.  This path would later herald the acknowledgement of her greatest passion, theatre. Her passion also met with experiential training as Marcia successfully completed studies with the best of the best and amidst one of the liveliest theatre cultures in the Caribbean.
Marcia emerged a versatile multi-talented thespian, well positioned as one of the most sought-after talents in the acting community. Marcia has worked with some of the very best actors in Jamaica, including the King of Comedy Oliver Samuels, as well as her very close friend and mentor and Jamaica's Queen of theatre, Leonie Forbes.
Marcia has memories of many of her stage performances, but her first Pantomime appearance in Tantaloo remains close to her heart. In addition to Tantaloo, Marcia has performed in six additional LTM Pantomimes – Ginneral B, Sipple Silver, Riva Muma and the Golden Table, Trash, King Root and Bruckins.  Other plays in which she performed include Irie Neighbours, We Run Tings, The Nutmeg Princess, Mr. Garvey, Play Boy, Duppy In The House, Dear Pastor, Country Duppy and several others.
Marcia Brown migrated to Canada in 1989 and realized quite early that there would be challenges in the industry, the primary being "lots of talent and not enough opportunities". Despite this challenge, she was able secure roles in a few Jones & Jones Productions' stage plays. She later worked with Theatre in The Rough, We Are One Theatre and a few other local community groups.
While she appreciated those opportunities Marcia knew in her heart that they were just not enough, and she had to find a medium to create more opportunities for herself and then for others. She started by writing short comedy skits and performed them for small to medium-size audiences.  In 2000, she combined her vast experience in theatre with her producing skills to formulate what would later become Marcia Brown Productions.
Marcia Brown Productions is a professional theatrical and entertainment company. The goal of the company is to contribute to the presentation and preservation of the Jamaican culture within the Canadian Diaspora. The company ensures that each performance resonates and leaves its audience impressed with the delivery and professionalism in its full-length stage plays.
The plays produced by Marcia Brown Productions include Common-Law, Wipe That Smile, Rosetta, Single Entry, Feminine Justice, Children Children and Country Duppy. Of the lot, she directed Wipe That Smile and Feminine Justice and all have seen returns for encore performances.  After a decade of adapting scripts and writing smaller original works, Marcia kicked it up a notch and wrote a full-length play called I Need to Know My Father, which has evolved into the longest running local production in the history of the Toronto Theatre scene.
Being a breast cancer survivor, Marcia wrote and performed a skit titled Ignorance for the African Canadian Cancer Forum, which received standing ovation and accolades from those in attendance.
Though Marcia Brown is known for her association with stage and theatre, she has also made appearances in several movies. Marcia's film credits include Jason Romley's Alone, David Sutherland's My Father's Hands, Marilyn Gray's Vicious Cycles, Christine Browne's Another Planet and the unforgettably feisty character "Joy" in the ever-popular film video, Front Room. She also has credits in TV Commercials and documentaries under her belt.
There is always more to Marcia.  She believes that the Jamaican or Caribbean culture is one of the richest in the world, and while the Diaspora lives "abroad", it is very important that we never lose sight of that rich culture. She believes that "it is very important that we pass our cultural baton to the next generation and encourage them to embrace it".
In 2013, she produced the 2nd annual all-youth production Pickney Sinting, a venture she planned to have sustain itself as well as provide financial assistance by way of scholarships and bursaries to students from low/disadvantaged income households. This will assist these students in pursuing post-secondary education in colleges/universities across Ontario.  Marcia has also, for many years, made a personal commitment to donating Scholarships to the Jamaican Canadian Association Scholarship Program.  These are presented at the annual awards ceremony held each September.
Marcia Brown is the recipient of several community awards in recognition of her work. As part of the commemoration of Jamaica's 50th year of Independence (August 2012), the who's who of the Jamaican Diaspora in Canada were recognized in a feature book titled When Ackee Meet Codfish, Marcia Brown is listed among the 250 achievers and contributors in this historical record.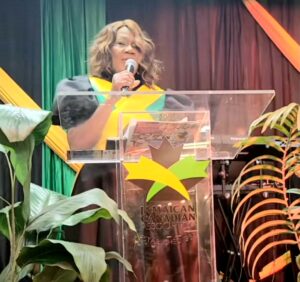 It is hard to ignore the accomplishments of Marcia Brown since her migration to Canada. The community has embraced her, supports her work, and she can't help but be proud and humbled by all the accolades. "Coming to a new country and establishing a venture, then getting the support of your community is an accomplishment in itself," Brown said. "Seeing the smile on people's faces after watching one of our productions and being asked when is the next one coming is very gratifying."  "Being able to contribute to the community and play a small role in keeping a part of our Jamaican culture alive is beyond words."
Amidst her love for the arts and her many accomplishments, Marcia still makes room for a full-time job with a well-established Financial Institution, downtown Toronto.  As she puts it, "The bills have to be paid".  Marcia is a devout believer in the word of God, and every day she gives God all the Praise, Honor and Glory, for blessing her with this wonderful gift, which she intends to use for as long as she breathes. She is blessed with a son, Michael "Avalanche" Scott.
In 2023 Marcia Brown Productions will be celebrating 23 years of theatre production in Canada. The company plans to commemorate the milestone by redoing two of her most successful plays, Deception and I Need to Know My Father for the anniversary celebration.