Legendary dancer and singer Pluggy Satchmo died at his residence in Toronto on Wednesday May 17th. It was reported that a friend found him unresponsive, and he was later pronounced dead. He was 90 years old.
Pluggy Satchmo was known for his humour and knowledge of Jamaican music history.  Veteran crooner Jay Douglas describes him as a very jovial and kind person. "Pluggy was a loving and respectful brother who demonstrated peace and love at all times," he said. "I will always remember his humour; he will be surely missed."
While plying his trade as a singer in Canada, Pluggy Satchmo worked as an animal technician at The University of Toronto's in the Department of Zoology for many years until his retirement.
In 2000, he was presented with an award of merit at the 16th Annual Canadian Reggae Awards. In 2015, for his contribution to reggae music in Canada, he was one of the artists chosen to grace the Reggae mural at Oakwood Avenue and Eglinton Avenue West.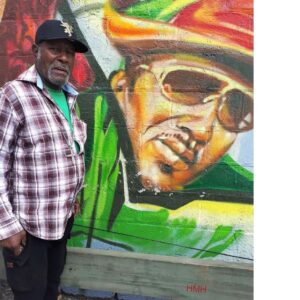 John Gilbert Peck is from Kingston, Jamaica. Louis Armstrong has always been considered a leading light in Jamaica and inspired Peck's pseudonym. Peck initially performed as a dancer alongside Beryl McGar and the mysterious Sparky. As Sparky, Pluggy and Beryl the troupe formed in the mid-50s and entertained the tourists on the north coast.
Peck later enjoyed solo notoriety in Jamaica when he entered and won the popular Vere John's Opportunity Hour talent contest. In spite of his individual success, he continued to perform with the trio pursuing his career as both a singer and dancer. While remaining committed to the group, Peck simultaneously recorded alongside Owen Gray in the early 80s. The sessions were compiled and released on Vista Sounds in 1983 as a medley album called 'Battle of the Giants Round 1'.
In 1986, Peck migrated to North America and later settled in Canada where he continued to dance as part of a duo with McGar. By this time Sparky had left the group having decided to relocate to the UK. In 2000, McGar died, and Peck concentrated on his solo career.
Despite having been in the business for over 25 years, he was absurdly considered an overnight success in Canada when he signed a recording contract with TP Records. His appreciation of Armstrong led to the release of a tribute album that showcased Peck's impersonation of the legendary performer.
His debut, 'Porridge', featured support from Lord Tanamo and Norma King, who joined him on his interpretations of 'What A Wonderful World' as well as Nat 'King' Cole's 'Mona Lisa' and Fats Domino's 'Blueberry Hill' in 2000.