Brampton Mayor Patrick Brown, city councillors, city officials and community members gathered at Sheilds Park in Brampton, Ontario on Monday, February 28th to witness the official renaming of the space to Kirk Diamond Park.
Kirk Douglas, better known as Reggae Star Kirk Diamond hails from Spanish Town, Jamaica, and migrated to Brampton with his family at age ten. Over the years, he has developed and carved his name as one of Canada's premier reggae artists and community activists. He has acquired three JUNO Awards nominations for Reggae Recording of the Year and won the award in 2018 with his song titled 'Greater'.
In his remarks at the renaming ceremony, Mayor Brown said that Kirk Diamond was given this honour because of his work as a musician, an activist, and a proud representative of his hometown Brampton. "His music spread messages of unity, inclusion and love for all walks of life, messages that all of us can admire. Kirk is also heavily involved in his community and is someone who pays it forward to others", the mayor said.
The motion to get the park renamed was spearheaded by Councillor Harkirat Singh, Councillor for Wards 9 and 10. Singh said when they were Trustees, a few other members and himself made it a mission to rename local assets to be reflective of the population in Brampton. "Having assets with names that reflect the diversity and the community that it serves is very vital, especially when it comes to young people, they need to have great role models", Councillor Singh said. "When I learnt about Kirk Diamond and did my research and learnt about his accomplishments, I was honoured that he was from the ward that we represent". Kirk's legacy can now be shared with young people in these wards and across the city", Singh continued. "If young people aspire to be an artist, social activist or whatever profession they choose, they can now go home and do research on google and see themselves reflective in these names, this helps to build character and confidence".
Reggae Artist Kafinal, who attended the unveiling, was very proud of his friend and fellow musician's achievement.  He is happy Brampton choose to honour him while he is alive. "I have never known a person with a park named after them, and to be further honest, too often people are honoured after they pass so this is refreshing". Kafinal said. "There are things which are beyond our dreams which happen unexpectedly and serve as inspiration to others. "Today I witnessed Kirk Diamond, my friend and colleague in the reggae fraternity, experience one of those beyond dream moments". "He has a park named after him in the city of Brampton".
Diamond is still in awe after receiving this unexpected prestigious honour for doing something he loves. "To be able to make music and spread the message of love and togetherness is always a blessing. "So, to be honoured in this way is more than I expected, but this is not just for me, its also for the community and the culture that I represent", Diamond said. "What this has done is inspire me to continue doing my work diligently, knowing that with this honour I have to be a good representative of my community, my people and my music".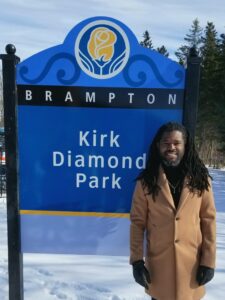 Several Brampton politicians, friends and family were in attendance on an extremely cold day.  Members of Diamond's band, The Movement of Ahryel, performed an acapella rendition of his chart-topping single 'Greater'. The positive start in 2022 continues for Kirk Diamond because on Tuesday, March 1st, he received his Fourth JUNO nomination for his song 'Too Ruff' featuring Finn.
We at Reggae North would like to send hearty congratulations to Reggae Artist Kirk Diamond on this achievement. You have represented Brampton, Canada and Jamaica and its culture well, and we encourage you to continue the great works.
Follow and support Kirk Diamond on social media
Website @kirkdiamondmusic.com
Facebook @kirkdiamondmusic
Twitter @kirkdiamond
Instagram @kirkdiamond
Soundcloud @kirkdiamondmusic